Guide to the server racks
Server cabinets are specially designed metal cabinets that are used to store and protect computer equipment and servers. They help to organize the cable infrastructure, provide access to the equipment and protect it from dust, moisture, electromagnetic interference and unauthorized access.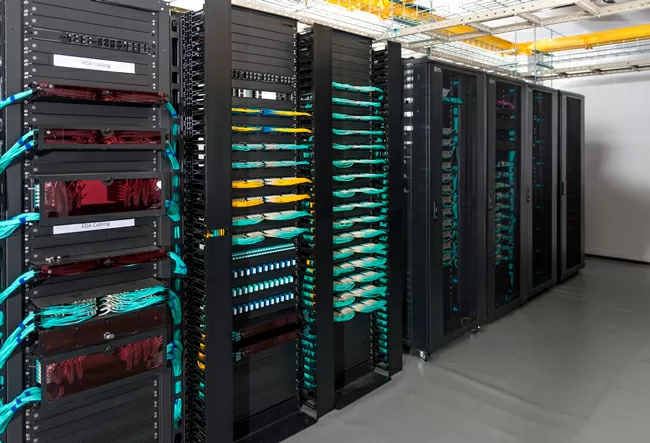 Server racks can vary in size, design, materials of manufacture and level of protection. Cabinet sizes are often defined by standards such as EIA-310 or IEC 60297, and can range from 6U (10.5 inches) to 48U (84 inches) or more. The cabinet design can be open or closed, with various types of doors, locks and ventilation systems. Materials of manufacture include steel, aluminum, fiberglass and plastic.
Server cabinets also provide security for computer equipment. They may have an installed video surveillance system, a built-in automatic fire extinguishing system, mechanical or electronic locks for access control. The need to use server cabinets is caused by the simplification of the cable infrastructure. Inside the cabinet, the cables can be neatly organized, which prevents damage to the cables when moving or changing the configuration of the equipment, and also simplifies the ventilation of the equipment.
Standards of telecommunication cabinets by width
There are several standards for the width of server racks. One of the main standards is EIA–310, established by the Association of Electronic Industrial Standards. According to this standard, the width of the server cabinet is 19 inches (or approximately 48.3 cm). This size is accepted almost all over the world and is used in most professional settings.
However, some companies offer cabinets with a width of 23 inches (58.42 cm), which are usually used for old equipment.
There is also a 10-inch (25.4 cm) standard, which is often used for network switches and gateways, as well as for presentation and audio-video equipment in small buildings and offices.
The height of server cabinets is usually measured in units - units (U), where 1U is 1.75 inches or 44.45 mm. The standard height of server cabinets is usually from 36U to 48U. This means that the 36U server cabinets are about 63 inches or 1600 mm high, and the 48U server cabinet is about 84 inches or 2134 mm high. Smaller server cabinets can have a height in the region of 12U, 20U or 24U, and large server cabinets can reach a height of 58U or more.
Today, the following sizes of server cabinets are most often on sale:
6U (height 10.5 inches or 267 mm)
9U (height 15.8 inches or 400 mm)
12U (height 21 inches or 533 mm)
18U (height 31.5 inches or 800 mm)
42U (height 73.5 inches or 1867 mm)
48U (height 84 inches or 2134 mm)
Depending on the size, the cabinet can be mounted on a table, screwed to the false floor of the data center, hung on the wall or under the ceiling.
Classification of server and telecommunication cabinets by type of installation
Server cabinets can be installed both permanently and temporarily, for example, for some field events. Stationary cabinets are usually used in a standing position and fixed to the floor to ensure a flat surface and rigidity of the structure. Such cabinets are used mainly in data centers and offices.
Mobile cabinets, on the contrary, can be moved from place to place and usually have a mobile design on wheels. They can also be used as a temporary solution for transporting equipment or as a backup option to replace the main server cabinet in case of failures or repairs. Typically, the depth of mobile server cabinets is from 600 to 900 mm, and the depth of stationary cabinets is from 800 to 1000 mm.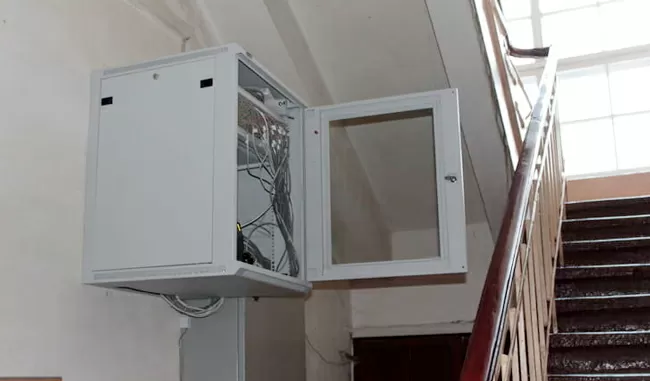 There are also wall-mounted server cabinets that are attached to the wall and can be both stationary and mobile. Wall cabinets are used in small offices or rooms with limited space, as a rule, for the installation of light equipment - network switches, NAS systems of small depth and cable patch panels. Typically, the depth of server cabinets for wall mounting ranges from 300 to 500 mm.
Cable management accessories
Proper installation of cables in server cabinets is an important part of their maintenance, allowing to maintain order and facilitate access to system components. Cable management also improves ventilation, prevents overheating of equipment and increases its productivity and reliability. In addition, proper cable laying reduces the risk of accidental cable disconnection and reduces the maintenance costs of server systems.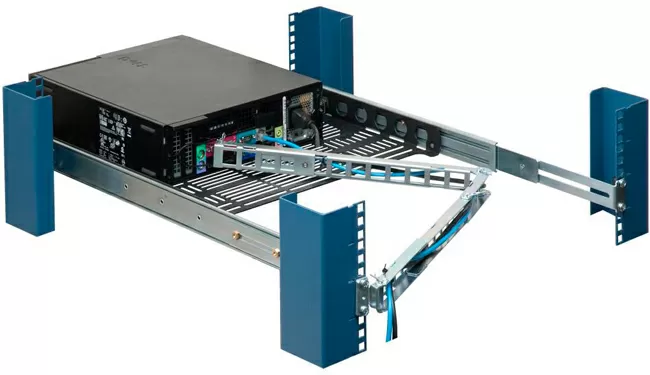 The system of cable channels. Cables are laid in special channels that are attached to the vertical racks of the cabinet.
Cable organizers. These are metal or plastic devices that are used for laying cables in server cabinets.
Vertical cable organizers. These are devices for laying cables that are attached to the vertical profile of the server cabinet.
Cable management arm is a device consisting of a retractable arm attached to the back wall of the cabinet, on which cables can be fixed for laying them behind the equipment. Using such a device allows you to pull the server out of the cabinet for maintenance without disconnecting cables from it right during operation.
Cabinets for several tenants (colocation cabinets)
Collocation rack cabinets provide a secure and self-sufficient way for 2-4 tenants to share a single rack cabinet. The collocation cabinet is mainly used by companies that rely on collocation services in data centers to host and maintain their IT equipment.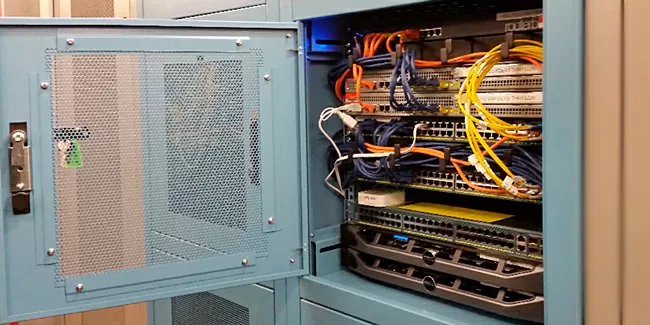 Such racks ensure the safety of storing IT equipment thanks to protective elements and access control individually for each section. In some cases, it can be said that solid partitions between sections contribute to better cooling.
Choosing a server cabinet by depth
"Rack mounting depth" is the distance between the front and rear mounting rails of the server rack. This is an important parameter to consider when buying equipment for server racks. The installation depth gradually increases over the years along with the total depth of the racks. This is caused by a steady increase in the length of servers manufactured by Dell, HPE and Lenovo. The standard OEM (Original equipment) depths are as follows:
Standard depth of Dell servers: 73.3 cm (28 7/8 inches)
Standard depth of HPE servers: 74.0 cm (29 1/8 inches)
Standard depth of Lenovo servers: 72.4 cm (28 1/2 inches)
The depth used to be usually 19-24 inches (48.26-60.96 cm), which is still used for audio racks. Currently, the most common depth of server enclosures is approximately 29 inches (73.66 cm). Any depth greater than 29 inches will provide additional support for cable management and additional accessories.
Is it possible to isolate the server cabinet?
Server racks can produce loud noise, which affects the work of employees and neighbors, and it is not always possible to move the server cabinet into a separate room. Various materials, such as porous materials, sound absorbers and other cellular materials, can be used to soundproof server racks. These materials absorb noise and can also improve the ventilation system of the server rack, which is also important.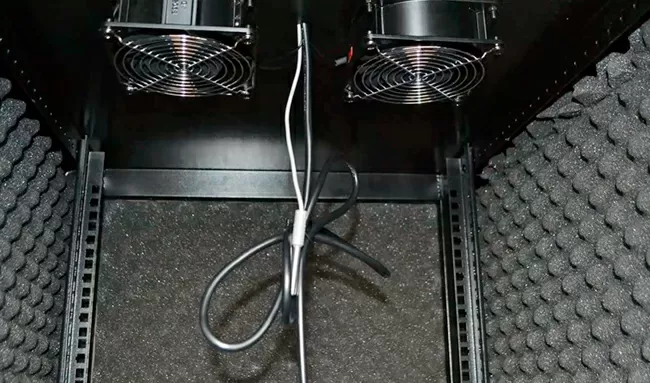 Special soundproof cabinets and components are available for rooms with high noise requirements:
APC NetShelter CX is a server cabinets with noise protection designed specifically for small and medium-sized offices. They have doors and walls consisting of two layers that help reduce noise to 18 dB.
Orion Acoustic Cabinets is a server cabinet with noise protection that can reduce noise up to 28 dB. The cabinet has fans with adjustable speed, as well as sound-absorbing materials on the walls and doors.
In addition, it is possible to purchase additional components for cabinets for sound insulation, for example, special doors, panels, etc. For example:
Silentium company specializes in active noise protection for servers. They produce noise protection systems that can be installed inside the server cabinet and reduce noise up to 20 dB.
Orion Fans is a manufacturer of fans and components for noise reduction in server cabinets. They can provide advice on selecting the appropriate components and installing them in the cabinet.
Specialized server racks
The answer to the question of why earthquake-resistant server cabinets are needed is quite obvious - they allow you to protect server equipment in case of earthquakes that can cause huge damage. There are several manufacturers that specialize in the production of earthquake-resistant cabinets, for example:
Chatsworth Products. They offer a wide selection of earthquake-resistant cabinets that can withstand various levels of seismic activity.
Great Lakes Case and Cabinet. They make closed and open earthquake-resistant cabinets that meet the standards of Seismic Zone 4.
Rittal
Tripp Lite
As for server cabinets that are resistant to flooding with water, they are needed in cases where server equipment is installed in underground rooms where flooding may occur. Such cabinets have special sealing and are resistant to water ingress, which guarantees the safety of servers and data in case of emergencies. Additionally, sensors are installed inside the cabinets that turn off the power when moisture penetrates to protect the equipment from a short circuit.
Vandal-proof server cabinets are an important component of a data center if there are risks of hacking or intentional damage to server systems. Today, almost all major manufacturers produce such cabinets, so we will not dwell on them.
Protection from powder
Modern server cabinets can be specially protected from fire alarm powder sprayers that can damage the electronic equipment inside. Such protection is usually sealed gaskets or casings that prevent powder from entering the cabinet. One of the manufacturers of server cabinets with powder protection — the company Panduit. They offer cabinets with powder extinguishing protection that comply with UL and CE standards. They also have a high level of tightness and protection from dust and moisture. There is another problem when using a powder-protected fire alarm in server rooms. High noise levels from powder spray nozzles can cause vibrations that can damage hard drives in servers. To eliminate this problem, it is necessary to use upgraded nozzles of the fire extinguishing system. We do not know of server cabinets with noise protection of powder sprayers, however, some manufacturers, such as APC, Eaton, Rittal and Tripp Lite, offer server cabinets with layers of noise insulation that can help reduce the noise level from powder spray nozzles.
Ron Amadeo
20/03.2022