QNAP TS-262 - Little hero of a small office
I already described the concept of a modern office in which all employees work remotely and only occasionally gather for meetings so as not to forget who one of them looks like. All digital services in such companies are transferred to a local or private cloud with access via a Web browser. An incoming sysadmin or freelancer is involved in the maintenance and configuration of services. And in fact, the main thing in such an infrastructure is that the Internet does not slow down. Yes, there have always been such companies, but if before COVID-19 they were very small organizations for 4-5 people, today I know several companies for 50-60 employees who came to such a scheme of work after a full-fledged long-term office slavery, and what is most interesting is their expensive network infrastructure with 2-processor servers on Xeon-ah was not ready for this. Why?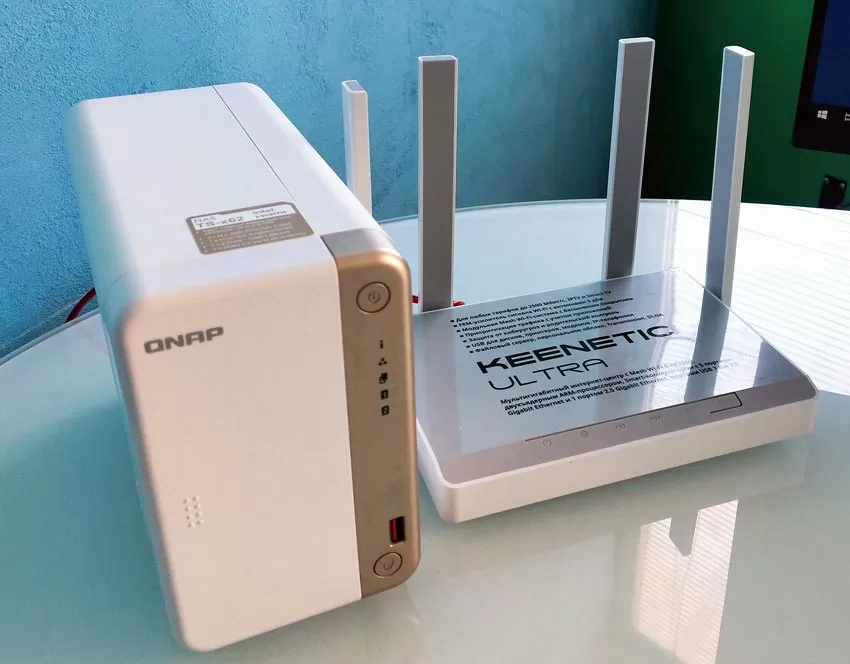 It's simple: buying software licenses, and just servicing free OpenSource software costs a pretty penny, and public clouds do not come out cheaper, especially if a company needs to store terabytes of data. That's where it's time to remember about NAS-s, which quite successfully displace traditional server solutions from such companies. You pay once for a device that even a housewife can set up, and then calculate the savings on licenses, on sysadmins, and even on electricity.
There are only two technological leaders in this industry, one of them is QNAP. In its model range there are dozens of names from miniature desktop models for the home and to powerful 2-processor ones for data centers. Most of these devices use the same QTS operating system, which facilitates the transition between generations of models and provides an easy transition to more spacious devices, because unlike servers that work without replacement for 8-10 years, NAS upgrades happen more often.
Features of the data storage subsystem in QNAP TS-262
1- and 2-disc models, as a rule, appear in the office by chance: they are most often given away, or given under some kind of partner incentive programs, because they are cheap. The device begins to be used for backups and file sharing networks, and as a rule, it changes over time to something more serious. If the company is so limited in budget that it can afford only the initial level of NAS, then this is the most optimal case, because it is in this variant that the device reveals itself 100% and gives the best return on the invested dollar.
The QNAP TS-262 is a miniature device with two 3.5-inch hot-swappable SATA SSD/HDD compartments and a 2.5-Gigabit network port. However, it would be wrong to call it 2-disk - the NAS has 2 built-in NVME M.2 2280 slots for SSD, and another pair of M.2 SSDs can be installed via one of the expansion cards:
QM2-2P-244A - for 2x NVME M.2 SSD
QM2-2P10G1TB - for 2x NVME M.2 SSD + 10G NIC
QM2-2P2G2T - for 2x NVME M.2 SSD + 2x2.5G NICs
QM2-2S-220A - for 2x SATA M.2 SSD
Yes, the QNAP TS-262 is probably the only NAS in its class that has a PCI Express slot (low-profile Gen3 x2 x4 length with a slot). The list of supported PCI-E cards is huge: there are network, wireless, and interface (SATA and USB) controllers, with which up to 2 expansion shelves of 8 disks can be connected to the device.
And although the processor supports PCI Express Gen 3 generation and no higher, SSD drives with PCI Express Gen 4 bus are also declared in the compatibility list, so there should be no problems with installing modern large SSDs. But another question arises, where does the QNAP TS-262 get such generosity for PCI Express channels, because the Intel Celeron N4505 processor supports only 8 of them? The secret is simple: each M.2 slot (on the motherboard and expansion cards) uses only 1 PCI Express channel, so the speed of each SSD is limited to 1 GB/s, and the data transfer rate to the expansion card is 2 GB/s. Is it a lot or a little?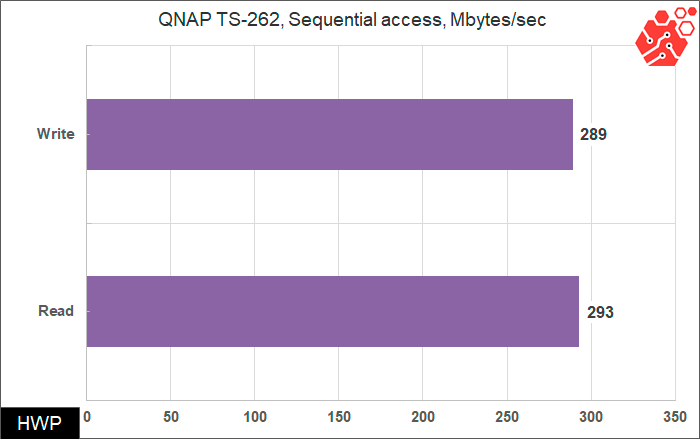 In general, considering that the QNAP TS-262 has a 2.5-Gigabit network port that gives about 290 MB / s "out", this is more than enough, and for the internal work of various services and virtual machines - in excess. Unlike Synology products, QNAP TS-262 allows you to use NVME SSD not only as a cache for HDD, but also to create full-fledged volumes, so that in the maximum version you can configure 4 volumes on different SSDs + 2 on different HDDs, or you can make 3 mirrors: 2 from SSD and 1 from HDD, or you can configure SSD cache + SSD volume, just keep in mind that SSD can be used for only one purpose: either for caching needs, or as a full-fledged volume. You can't cut off a piece of the SSD for the cache, and you can't give the rest for data storage. This is partly due to the limitations of the LVM used for the storage subsystem, partly due to the lack of demand among users: SSDs are now so cheap, but they help so much that it's easier to buy a couple of 512-gigabyte ones to install in RAID-1 and read/write caching from SSDs than to mess with cutting large drives into parts.
By the way, if you use self-encrypted disks (SED models), then keep in mind that when deleting volumes, they are blocked, and you need to enter the PSID every time to unlock the device, which of course is inconvenient.
But, QNAP has an excellent QTier technology that allows you to organize layered data storage: frequently requested - on SSD, rarely requested - on HDD, and all this in automatic mode. Unlike caching, QTier summarizes the capacities of SSD and HDD layers and allows you to forcibly specify which resources are always stored on HDD and which are distributed between SSD and HDD (it is impossible to forcibly store only on SSD), so with this technology it already makes sense to install large SSDs of 2 TB and higher in NAS and combine them with large HDDs: you will get both the benefits of SSD caching and HDD volumes at the same time. Previously, this technology was only available in higher-end business models, but in TS-262 it is most welcome.
Interestingly, M.2 SSDs are mounted on latches without screws, and if you have long thin fingers, you can put the drives without opening the case, through the hard drive compartment. SSDs are installed in the airflow zone, so they should not overheat, but for some reason there are no temperature sensors, although they are available on the expansion boards mentioned above.
Hard drive trays are nothing unusual: 3.5-inch HDDs are mounted on vibration-proof latches, with bare hands, without a screwdriver. If you decide to install the SSD in the trays, they will have to be screwed with screws. Compared to its predecessors, the TS-262 has almost disappeared gaps between the disk compartments, into which air entered from the front. Now the cooling stream enters the case strictly from below, and this is probably due to the placement of the SSD on the motherboard.
The QNAP TS-262 storage subsystem is surprising: this has never happened before in this class of devices, because using expansion shelves, you can connect 10 HDD and 2 NVME SSDs to this kid, creating an array with a layer-by-layer separation of "hot" and "cold" data, well, say a hundred terabytes.
And what about the other subsystems? As for the processor and memory, everything is much more prosaic: a 2-core Celeron N4505 with frequencies of 2.0-2.9 GHz is a processor that is enough for the needs of software RAID and data exchange over SMB/NFS/iSCSI, but not enough for virtualization! Onboard memory is only 4 GB DDR4-2666, and even without the possibility of expansion. This is very little, and even running Windows 10/11 in a virtual machine is not enough. Why such savings in an era when memory prices have fallen below all decency? On the other hand, Plex will hardly require more than 2 GB of RAM, and 1 GB is enough for file sharing. But the beauty of QNAP is precisely in the advanced services that simplify the work of the IT infrastructure. Let's see what will work with this configuration and how?
Data backup - HBS3 and Hyper Data Protector
Perhaps backups are the main area of use of QNAP TS-262, so all backup methods for office infrastructure are supported here. Office computers running Windows are centrally backed up to the NAS using the Ntbackup Replicator utility. Here the user can set up a full or selective backup of the computer in manual mode or according to a schedule.
To back up VMware and Hyper-V virtual machines, QNAP has a very functional Hyper Data Protector package, which we discussed separately in our article. When backing up, deduplication and compression are supported, and repositories for copies can be kept encrypted.
Despite all the buns, Hyper Data Protector does not allow you to organize a 1-2-3 policy, that is, to save copies somewhere else, to the cloud or to a remote server. Hybrid Backup Sync (HBS3), a program for saving data from the NAS "somewhere else", solves this problem in part, and a decent number of these other destinations are supported. This includes a similar QNAP NAS, an FTP/RSYNC/Samba server and 40 different cloud providers, including Backblaze, Huawei Cloud and Yandex. Custom S3-compatible storages are also supported, thanks to which it is possible to save backups to the Storj distributed file network to protect against geographical risks (natural disaster, meteorite fall, etc.).
QNAP HBS3 supports configurable versioning and scheduled integrity checking. This function can be used to easily move data between accounts from different Cloud providers, who really don't like to offer tools for pulling data from them to competitor services.
QNAP HBS3 supports configurable versioning and scheduled integrity checking. This function can be used to easily move data between accounts from different Cloud providers, who really don't like to offer tools for pulling data from them to competitor services.
To save space and traffic, HBS3 supports deduplication, and for desktop Windows and Linux, QNAP offers a special utility to find the desired file in a backup using deduplication.
Security Councelor

Like many, yes, many - like almost all large IT companies, QNAP at one time faced vulnerabilities in its software, which left a negative imprint on the reputation of its NAS. Trying to rehabilitate himself in front of users who ask the question: "is it safe?", the developer added several services aimed at maintaining the security of the device.
It is:
Antivirus
Malware Remover
Firewall
Checking system security settings
The management of security tools is consolidated into a single Security Advisor console. I, like many experts, believe that antivirus and anti-malware are not different products, but simply different scanning settings for the same engine, and today almost all antiviruses under Windows do an excellent job with malware. But in QNAP, different programs are responsible for these functions - the antivirus can be either free ClamAV or commercial McAfee Antivirus with real-time protection and configuration of updates.
As for Malware Remover, it is QNAP's own product with cloud analysis of suspicious files. I am most interested in the security checker of the NAS itself, which checks the strength of user passwords, guest access to folders and services, as well as the installation of necessary updates.
Multimedia Console

In general, combining several services into a single management console is a convenient solution, because the number of functions only increases over the years, and a separate program is increasingly responsible for each of them. Therefore, services such as DLNA, photo gallery, face and object recognition, as well as transcoding are now combined into a single interface from which you can add folders for indexing, delete and manually start re-creating sketches, connect various AI modules for analyzing photos, etc.
If the company's work is associated with a large volume of photo and video materials, then QNAP's capabilities will in most cases be enough not to resort to installing and configuring third-party software. But if you suddenly need to install something that is not by default, there are 2 ways to do it.
Virtualization
QNAP TS-262 supports both hardware and container virtualization, and as I have already said, a small amount of RAM greatly limits the scenarios in which TS-262 could work as a hypervisor, however, even 512 MB of memory will be enough to run virtual Internet gateways, so on this machine with ease both pfSense and RouterOS for Mikrotik fans can be launched, but I wouldn't count on more.
But container virtualization in QNAP TS-262 is much more interesting, because both Docker containers and LXD are supported here. The difference between these formats is that in the case of Docker, you download ready-made images of the applications you need from the central repository, combining all the libraries and the operating system kernel, and LXD is needed for those cases when you install the application yourself on an "ostensibly clean" OS image. In principle, very often LXC containers replace traditional hardware virtualization - they are less memory-demanding and take up less disk space. So if you need to install, say, Home Assistant or Nextcloud, then it's better to do it through Docker, and if some Python script, then through LXD. Why is this important?
Yes, because it is much easier to run the software you need in containers, but at the same time, for some reason, NAS manufacturers do not pay due attention to this type of virtualization, and if you choose a platform for a large amount of data with processing from containers, that's what awaits you:
container virtualization


Docker


LXC/LXD

Asustor

Yes, manage thru Portainer


No

Synology


Yes, with integrated web-interface


No


Terramaster


Yes, with integrated web-interface


No

Truenas Core


No

No

Truenas Scale


No

No

QNAP

Yes with integrated Web-interface

Yes, with integrated Web-interface


Proxmox VE


No


LXC - with integrated Web-interface.
LXD - no

QNAP also supports Kubernetes, but this is probably more suitable for older models designed for installation in a data center. Nevertheless, there is support for K3s here, and it is quite suitable for a home laboratory.
Conclusions
Many storage technologies that were previously available only in expensive rack NAS are now "going down", making small desktop devices even more technologically advanced and meeting the requirements of the modern digital world. QNAP has finally "lowered" to the ground the sinful support for NVME drives, and even with the possibility of expanding the SATA subsystem to 8, 10, 12 or 16 disks of 10 disks. Thus, now a small 2-disk device is able to cover all the data storage needs of a small office, where file sharing, backups and the launch of some microservices in containers are needed. All this is offered with a fast modern 2.5-Gigabit network interface for working in environments with Wi-Fi 6 and IoT infrastructure. The model we are considering has 1 drawback - a limited small amount of RAM, so when buying it, you should decide in advance whether you will load the machine with third-party software, or limit yourself to built-in applications. In the second case, there is not much to worry about - all the native QNAP software is highly optimized, and even works on 4 GB of memory, but programs such as Nextcloud will force you to choose a more powerful device, of which there are plenty in the QNAP line.
Michael Degtjarev (aka LIKE OFF)
16/05.2023