HP has released the ProLiant RL300 server on the AArch64 architecture. Why is this important for the Cloud market?
The shortage of chips that arose in 2020-2021 made many manufacturers and consumers of computer equipment realize that the world does not end with x86 solutions. Apple transferred its laptops and monoblocks to new processors with ARM architecture, and even earlier we considered the Huawei Taishan 2280 V2 server based on Kunpeng 920 processors with ARM architecture, and even then I expressed the opinion that sooner or later the Cloud world will switch to a new architecture, because for large companies it is an opportunity to control the process chip development, for server vendors - an opportunity to offer something new that competitors do not have, and for consumers - an additional degree of freedom and possibly a solution to some local problems. And now time has passed, and the largest vendor of server equipment, HPE, releases the Proliant RL300 Gen11 model based on Ampere Altra Max processors. These are 1-socket 1-unit servers, delivered both according to the traditional purchase model and according to a relatively new type of subscription sales (Server-as-a-service). The new machines are designed for Cloud environments, that is, for companies providing application hosting services using container and hardware virtualization, as well as for Web hosting and related applications.
Who are Ampere?
Ampere is an American company headed by the former president of Intel, Rene James, engaged in the development of server CPUs. The company does not have its own production, and uses a 7 nm TSMC process technology for production. In addition to Ampere, Amazon's Graviton processors are also present on the ARM solutions market, which are mainly produced to work in the company's data centers to sell resources to customers, and the aforementioned Kunpeng 920 from Huawei.
It cannot be said that HPE was the first company to offer a server based on Ampere processors. In the Gigabyte model range there are as many as 6 models of different densities on Altra Max processors, it's just that HPE is the first major server supplier to offer a model integrated into its own ecosystem of service and support, and this is a very significant step for the entire industry. Of course, the step looks uncertain: only 1 model in the 1U form factor looks weak even against the background of one Gigabyte offering a full range of machines, including for peripheral (Edge) computing, including with the possibility of installing a GPU and in 1N4U format.
Why one should switch from x86 to ARM?
First of all, Ampere ARM processors can boast of a high density of cores per socket: the Altra Max model has 128 cores in 1 socket, plus 128 PCI Express Gen4 channels (up to 196 in 2-processor servers), and this opens up the opportunity to safely switch to 1-processor servers using software-defined distributed storage, and nose-to-nose to compete with AMD EPYC processors where high density cores and PCI Express drives are needed.
The second point, of course, is the price. In the case of branded HPE servers, it is difficult to say how much savings compared to servers on Intel Xeon and AMD EPYC will be significant, but it is implied initially, and not only at the order stage, but also during operation.
Low operating costs are achieved due to the high energy efficiency of the ARM architecture: the maximum TDP value for the 128-core Altra Max is stated at 250 watts, and the typical even in the synthetic benchmark SPECrate® 2017_int_base is about 178 watts. Relatively low power consumption leads to lower cooling costs, and as a result, a higher density of servers in cabinets.
One of the key technologies promoted by Ampere developers is the solution of the so-called "noisy neighbors" problem.
What is the problem of "noisy neighbors"
In conditions when a provider rents out power in the form of VPS to retail customers, it is quite possible that the load is skewed when one or more virtual machines load the processor bus, storage subsystem or memory too much. This is especially true when performing tasks related to artificial intelligence. One such virtual machine can slow down the entire server, which can host hundreds of client virtual machines, which will invariably affect the quality of the service as a whole. Ampere processors solve this problem in their own way. Firstly, there is no Hyper Threading function in Altra/Altra Max, and one core executes one thread.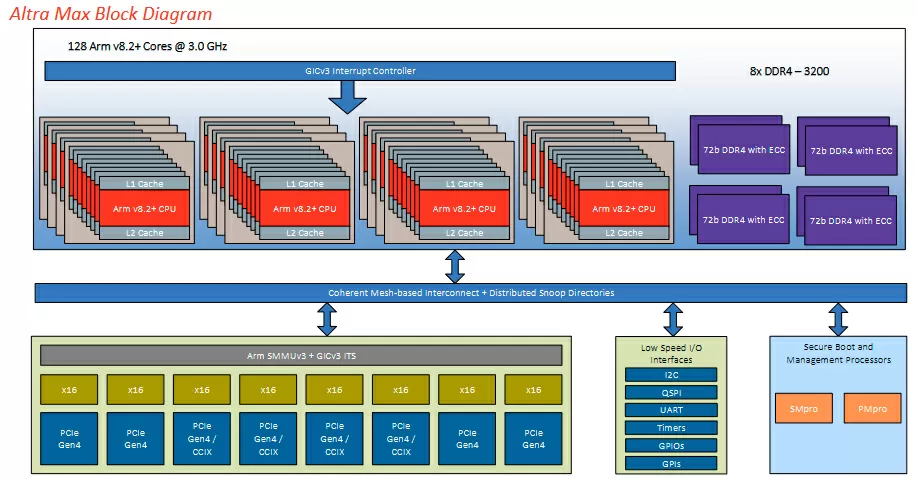 Secondly, each core has its own cache of levels 1 and 2, and communication with PCI Express devices is implemented as a peer-to-peer network. Especially for machine learning applications, support for FP16 (half-precision numbers) and INT8 (single-byte integer representation) data formats is implemented at the hardware level. There is also hardware hashing acceleration of AES and SHA256. In general, processors were developed initially taking into account the requirements of maximum isolation of users in Cloud environments, and are not subject to attacks to increase access rights of the Spectre/Meltdown type.
The main brake on the development of ARM solutions is, of course, incompatibility with the existing software stack deployed in the x86 environment in enterprises. Yes, under the ARM architecture, of course, there are all the same operating systems, including Windows, Linux and BSD, but we must understand that these are still other operating systems and other software that may have to be compiled from ARM sources, and not only that, you can't build a common cluster from x86 and ARM64, but you can't transfer a virtual machine or a container image from x86 to ARM, so you need to build separate data center cubes under ARM, and the feasibility of this is questionable (see our article on data center scaling by cloud providers). Nevertheless, for those who still decide to take part of the load to the ARM area, the HPE RL300 server will offer all the achievements of the industry in recent years.
Key features of HPE ProLiant RL300
As mentioned above, the HPE ProLiant RL300 is a full-depth 1U server with a fault-tolerant 800W power supply. The model is designed to install 1 Altra or Altra Max processor with a maximum number of 128 cores operating at a maximum frequency of 3.0 GHz.

The server has an 8-channel memory controller, up to 16 DDR4-3200 modules can be installed in total.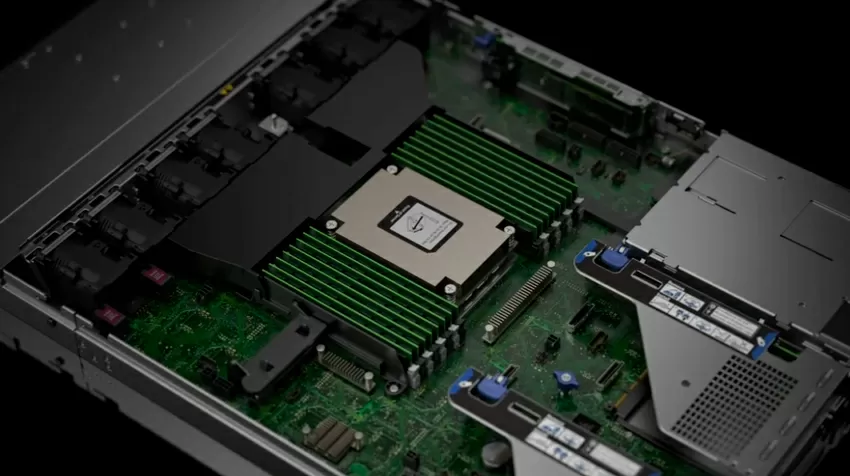 Interestingly, there is no built-in network controller on the motherboard, and in any case, you will have to use an expansion card: for these purposes, two OCP 3.0 slots are provided for network interfaces, as well as two full-height full-length expansion slots.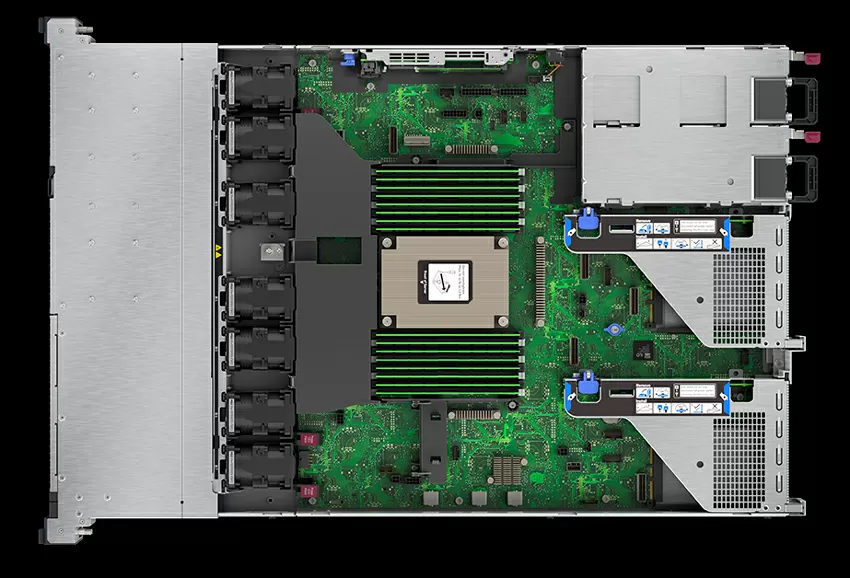 The storage subsystem is represented by 10 compartments for a 2.5" SSD with a SAS interface (it will probably be possible to choose PCI Express drives when ordering).
It is expected that the server will go on sale in the 3rd quarter of this year.
Conclusions
Fundamentally, the new servers do not represent anything unusual. It's just that customers using the HPE solution have the opportunity to build clusters on the ARM architecture without changing the vendor. This can be either an experimental cluster with a foundation for the future, or a planned transition from x86 to ARM, for example, to diversify the supplier of processor solutions (see our prophetic article on CPU diversification and how to replace Intel). This is a useful and important step that can only be welcomed.
Michael Degtjarev (aka LIKE OFF)
29/06.2022