Exclusive interview with Synology GmbH CEO Jeffrey Huang
- I would like to start the conversation with a question about the home user market. When Synology was just starting out, the NAS was a mystery to the average person, and most PC and laptop owners did not understand what it was for. Now, after so many years, people are actively using cloud services for backup, video surveillance and photo sharing, and again, many do not understand why they need a NAS if all the services they need are already in the cloud. Do you think NAS devices still have a chance to become as indispensable an element of life as, for example, a smartphone or laptop, and penetrate into every home, every family, or will they remain the lot of enthusiasts?
- Yes, I think having a NAS at home will become more and more important over time, especially given the global trend of increasing the importance of data privacy. In addition, the concepts of edge computing and edge storage will become the next focus of the market soon after the "Internet of things" and the "smart home" concept become commonplace.
Fact 1. The growth of the network storage market for home users is still expressed in double digits. The problem we face is that market training takes time, if everyone can spend 15 minutes to understand the value of the NAS, then they will reconsider the current use of public cloud services or external hard drives.
Fact 2. Synology can also be considered as a cloud service, but a private cloud service. Synology emphasizes the importance of privacy and the cost of data ownership. Imagine that you post your personal photos or company work files on a public cloud server, can you be sure of the safety of the data? In addition, the public cloud is a monthly subscription model, so if you really want to protect your data forever, the costs will be very high.
Fact 3. The younger generation has already been born in the world of the Internet. Most of them are familiar with public cloud services. Realizing their shortcomings, more and more people will start paying special attention to data privacy or the total cost of ownership. This is a trend.
Fact 4. Cybersecurity will become one of the main focuses of the future. Users will need to organize a home local backup, following the 3-2-1 strategy to prevent a ransomware attack or hacker attack.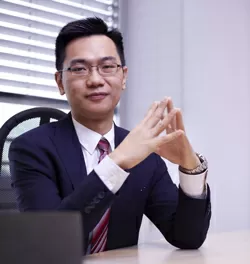 Jeffrey Huang, CEO of Synology GmbH
Graduated from National Taiwan University, Bachelor of Electrical Engineering Kellogg WHU Executive MBA
After graduation, he served in the Taiwanese special forces. Since 2013, he has been working at Synology, and in 2020 he became the CEO of the German branch.
"My goal is to make high-end data storage technologies available to small and medium-sized businesses, home users and IT enthusiasts. In addition, I want to support our customers in building a better world with data protection and productivity solutions."
- The IT industry has been experiencing a shortage of chips for the past two years, and some users (corporate and home segment) prefer to buy in advance, fearing that the device will become more expensive or disappear from the market in the future. What are your forecasts for Synology home and corporate devices, have you been affected by the shortage of chips, and is it worth buying a NAS now before it becomes more expensive?
- COVID-19 significantly affects the supply and demand in the market. It is very difficult to predict when we will stop feeling the pressure of the deficit. As for Synology, we are partially affected by the shortage of components (mostly not microchips) and delays in the logistics of cargo delivery. If you are interested in my opinion, then I, without a doubt, believe that the sooner you organize the protection of your data, the better. And it's not about the price at all, prices on the NAS market are still relatively stable compared to many essential goods.
- Another epoch-making event of 2020-2021 was the shortage of components formed due to cryptocurrency miners. In the spring of 2021, there was a race of cryptocurrencies using the proof-of-storage method, which required large HDD/SSD drives for mining (I mean currencies such as STORJ, CHIA and others). Tell me, did the events affect Synology? Has the demand from buyers/users increased?
- As for Synology hard drives, yes, we have received many requests to purchase all the drives we have in Central and Eastern Europe. However, we did not sell hard drives for these requests. We have released our own disks so that users of our high-performance systems can receive comprehensive technical support, a simple update of the hard disk firmware, reduced downtime, as well as optimal compatibility and maximum reliability.
As for the demand for NAS, I would say that it did not affect us. I assume that such users will choose specialized mining machines in order to achieve a better return on investment. But I did use my Synology to run a VM and install Ubuntu to try out Chia mining for a few weeks. And everything worked successfully. (The key factor here was SSD usage).
-  Continuing the topic of decentralization and WEB 3, I would like to ask you about distributed storage networks that are being developed today based on Blockchain technology. I had a good experience with the Symform distributed backup project about 6 years ago, and I am waiting for Synology to select one of these modern projects and support it as an extension package in DSM. Tell me, please, are you working in this direction, or maybe you don't see any prospects for such decentralization? Will such networks be able to compete with centralized cloud services?
- Synology will start with scaling technologies that are in high demand in the market. We want to make these technologies available to IT enthusiasts, home users, as well as small and medium-sized businesses. Blockchain is a really interesting new topic, but, as in the case of the dot-com bubble, I believe that it takes time to wait for certainty in the market and concentrate efforts on development that meets the real needs of the market. At the moment, the situation on the blockchain market continues to change every month.
- When it came time to use a CoW-enabled file system, Synology chose BTRFS, and after so many years it seems that development in this direction has stopped, while the ZFS-on-Linux project, on the contrary, is actively developing and used in your competitors' business devices, and is even available by default in Ubuntu. Are you planning to include ZFS support in the DSM in the foreseeable future? If so, will BTRFS and ZFS support continue at the same time?
- As far as I understand, the BTRFS community is more active than ZFS. The biggest sore point of ZFS is the high consumption of hardware resources, so it may look good if you focus only on the hardware specifications of some manufacturers, but the end result from this high-performance, according to the specification, system may be lower than many systems whose specifications do not look as impressive. Efficiency matters. And people care about the end result, not just the technical characteristics of the equipment.

In addition, it seems to us that the reliability and efficiency of ZFS at the moment does not allow it to be used as the default OS. Our priority is still the best possible end result for our users.
- HP and Huawei have excellent block virtualization technology implemented in 3PAR and OceanStor systems. It has great advantages over traditional RAID arrays, but I wonder why it is not used for NAS. Tell me, have you studied the possibility of using block virtualization in your devices for business users? Why is it still exotic and you haven't implemented it?
- First of all, most of our users focus on file server, backup server, video surveillance, office productivity and iSCSI storage. Based on these usage scenarios, we focus on the hard drive. The use of RAID 2.0+ is more appropriate when using an SSD.
Since the block is virtualized, it requires random access, and this does not correspond to the principle of HDD operation. If we apply RAID 2.0+ to HDD, it will lead to a significant decrease in its performance.
And finally, based on our DSM 7, Synology still offers innovative solutions to speed up RAID recovery time. We can enable the quick recovery feature to skip unused areas to speed up the recovery time. In addition, we provide a rate limiting feature to balance resources between the recovery rate and the impact on the current operation of the NAS.
- When Synology released branded SSDs and HDDs, sooner or later everyone started talking about Vendor-Lock (vendor binding), for example, like Dell, Lenovo and HPE. And although Synology representatives have stated that they will remain democratic on this issue, we see that the deduplication function introduced in DSM 7.02 only works with Synology branded SSDs. So when can we expect a full-fledged Vendor Lock, and which devices will it affect?
- First of all, I want to talk about the advantages of Synology branded HDDs. We want to provide comprehensive maintenance, non-stop firmware updates without removing the hard drive, better compatibility, reliability and availability.
Therefore, we are still collecting feedback from the market, but we have received a lot of positive feedback that businesses no longer need to worry about after-sales service. This is extremely frustrating when we encounter problems related to third-party hard drives, and it takes months to solve, debug and negotiate them. Our goal is to protect data and make the system as reliable as possible, so we have yet to get an answer to the question of whether the home user market has the same needs.
- You probably know that the introduction of preventive replacement or failure prediction functions in first-class Big Data-based storage systems is popular today? Let me explain for readers - this is when thousands of devices around the world send their metrics to the manufacturer's data center, and based on their failures, artificial intelligence based on your metrics can predict your failure in advance, giving you time to prepare for node replacement. Synology has not implemented this yet, and it would be interesting to know what work is being done in this direction?
- Synology Active Insight is the first step towards meeting this need. We just released this feature in DSM 7 in the third quarter of this year. We will continue to develop this centralized artificial intelligence system to help predict failures. For example, to protect the device, the next version of ActiveInsight will use artificial intelligence technology to detect abnormal actions when logging in.
- Many IT vendors are experimenting with sales models, offering a "server as a service" like HPE, or even a subscription to ongoing service like Pure Storage. And now that both servers and disks are offered under the Synology brand, you can also offer some kind of sales model without having your own device. Do you have any plans to expand the sales model due to something new?
- We always try to improve the quality of services for our users. However, it takes time to study reviews and user behavior in the market. As customer tastes will change from time to time, we will continue to collect feedback from our users and provide them with new features. Therefore, we are still at an early stage. In addition, this year Synology is actually launching our own public cloud service - C2 SaaS. So now we are a more complete ecosystem with a private cloud in place, a hybrid cloud and a public cloud SaaS solution. We try to provide the most competitive subscription price and rely on the level of security to compensate for the two disadvantages of the public cloud that I mentioned. Therefore, I think our users can also try Synology C2 to decide in which case to use a private cloud and in which case to use a public one.
- You had a very interesting experiment with the DVA3219 model, which used the face recognition function for video surveillance. Now these functions are especially necessary for monitoring the wearers of masks, but Synology has not introduced any new models with AI. Are you going to develop the use of the And And functions in the NAS? Are you planning to release AI accelerators for RS and FS business models?
- Because artificial intelligence requires a powerful graphics card. Therefore, we currently want to focus on the DVA product line to make the accuracy even higher. According to the results of our internal laboratory tests, the accuracy of our devices is even higher than that of Hikvision and Dahua. In addition, starting with Surveillance version 9.0, the car license plate recognition function will be available on DVA devices.
Finally, the business model of our Synology video surveillance station is very beneficial for our users. This is a perpetual license that allows you to use the Synology update and transfer service to other network storages without a license fee.
- I am waiting for the DSM to be sold as a separate product to work in the cloud or on my hardware. I have asked Synology representatives many times when it will be available, and each time I have received different answers. When will the DSM finally be available without hardware and which versions will be available and how?
- We tested this business model in China in 2018 under the name SkyNAS. We have done a lot of research to determine in which country this model has potential. Again, this is a matter of priorities for our Russian Synology team. We need to collect feedback and respond to the needs of the market, and then choose the best way to develop and provide our users with the most valuable features for them. Synology values the opinion of our customers and the experience of our users very much, so we usually think twice before moving and choose a development strategy with caution. But we have been seeing a high demand for the SaaS service in the public cloud for many years. Therefore, this year we will try to complement our 3 pillars with private, hybrid and public cloud solutions (Synology C2).
05/12.2021