Review of the DeepCool PM750D power supply unit - who needs a "gold piece"?
My attitude to 80 Plus certificates
I evaluate power supplies, first of all, according to the 80 Plus certificate: if there is one, then you can take the model, because it is not always possible to verify the quality of the components used, and this is at least some kind of guideline. For the home, for the family, it makes no sense to buy a model with an 80 Plus certificate below the Gold level: today the 80 Plus Bronze and 80 Plus Silver level has already discredited itself in terms of quality, so for me there is "Gold" and everything else. Of course, someone may say, "why not Platinum or Titanium?", to which I will answer that today there are no very high-quality devices in the world of electronics - there are just good and none, here are power supplies with a certificate of 80 Plus Gold, Platinum, Titanium - these are all "just good", and everything else is nothing.
We have been testing DeepCool products for several years, and if earlier its "golden" power supplies were considered exclusively as a top-end expensive solution, now it's time to save money in this price segment. Today we will consider a representative of the PM series, models with non-pluggable cables, but with an 80 Plus Gold certificate.
What did they save on?
Compared to the top-end DQ series, these power supplies have a warranty of only 5 years, not 10, the fan does not turn off completely, the design already has quite ordinary, non-top capacitors, but all protections are in place, plus active power factor compensation.
Built-in protections:
OPP - overload protection
OVP- protection against high voltage
OCP- bus overcurrent protection
OTP- overheating protection
SCP- short circuit protection
UVP - protection against undervoltage in main network
Of the design features, there is only one +12V rail, which accounts for almost all of the rated power. In principle, this is not a problem: the fashion to make several +12V railswent in the middle of the first decade of the 2000s, and I remember how it was possible to buy power supplies with 4-6 +12V rails, and then their number gradually decreased, and perhaps soon the industry will completely return to the design with one tire.
Of course, it did not pass without saving on equipment: there are no soft ties for laying cables, no handbag, or any other trinkets that you usually just throw away, but without which the kit seems empty.
Design features
Perhaps the main difference of the novelty is its compactness, the dimensions of the power supply are only 140x150x86mm. In modern cases, you rarely encounter a shortage of space for the power supply, so there is nothing to brag about here.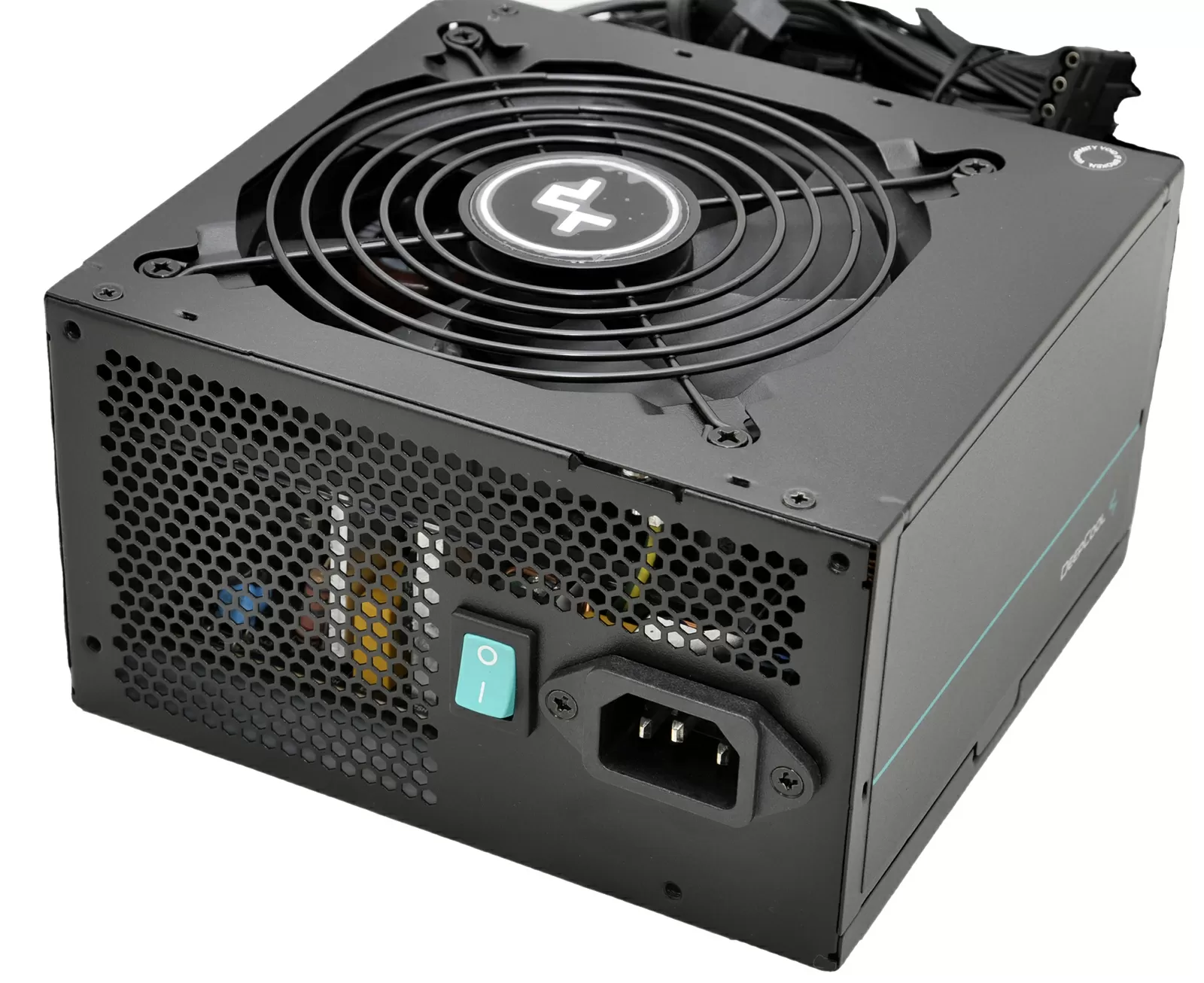 The case, in general, is the most ordinary, with a honeycomb structure of the rear grille and a conventional "grill" above the fan. Perhaps the only thing that the eye clings to is the blue-blue power switch.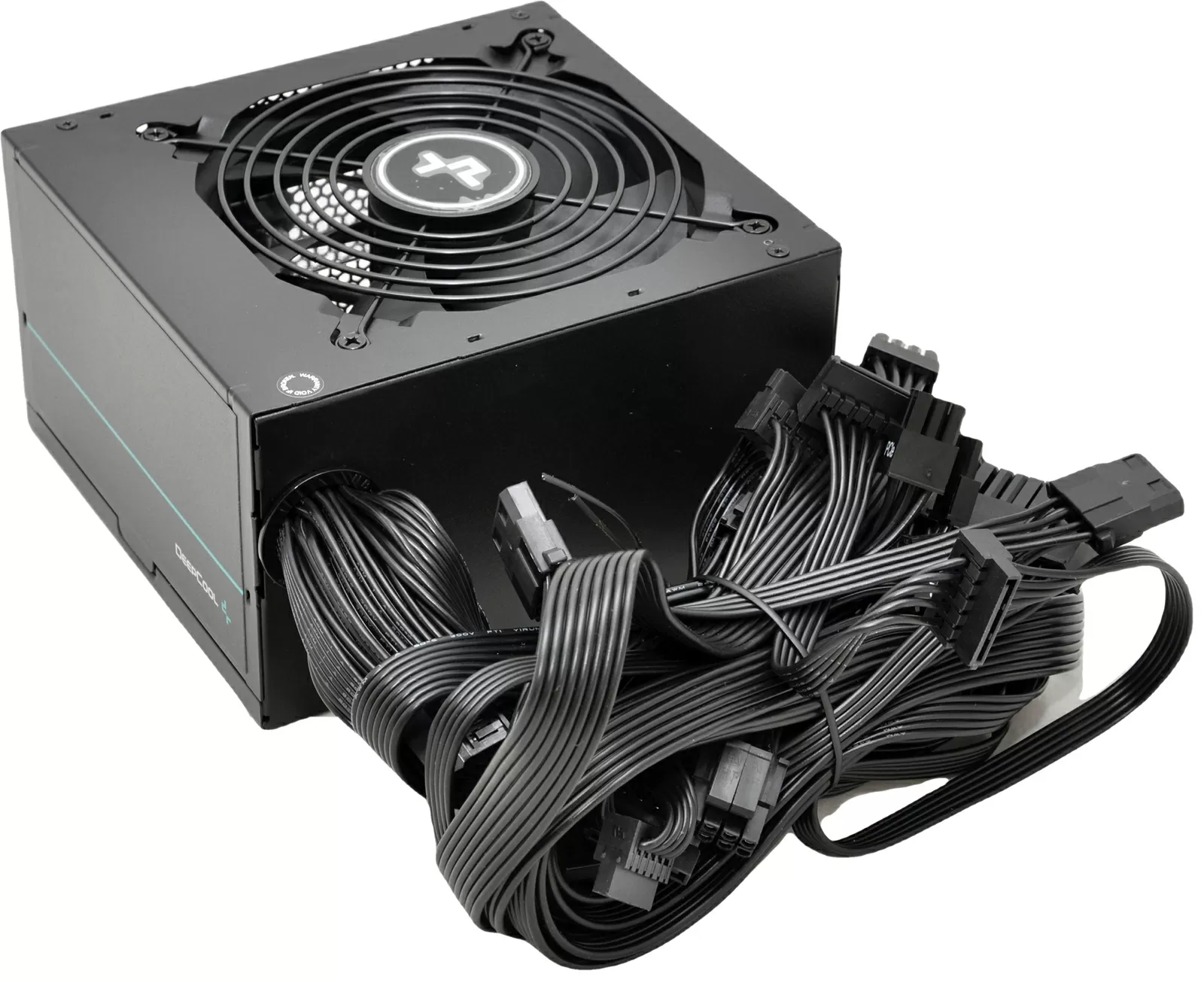 The power cables are all non-removable, with black insulated wires and black connectors. For SATA, conductors with a cross section of 20 AWG are used, and for ATX12V, ATX 24 Pin and PCI-E - 18 AWG.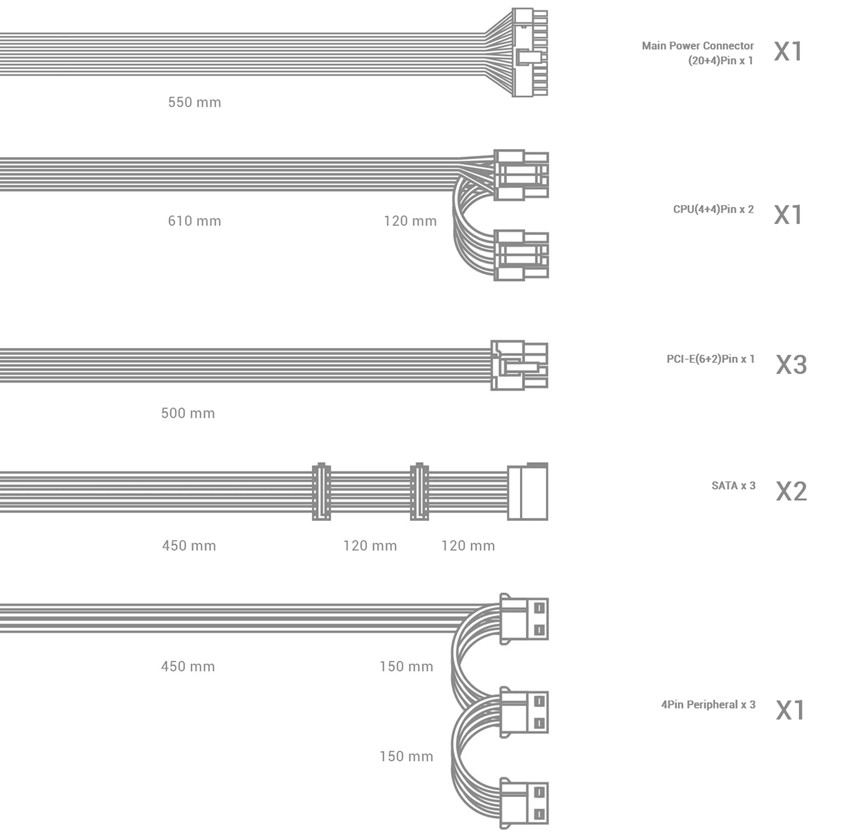 The length of the cables is:
45-60-70 cm of Molex 4 PIN
45-60-70 cm of SATA
54 cm of PCI-E
60-74 cm of ATX12V
55 cm of ATX 24
Three PCI-E connectors for the 750W model are exactly what you need, and what is most interesting, in the 800-Watt modification, the cable configuration is the same.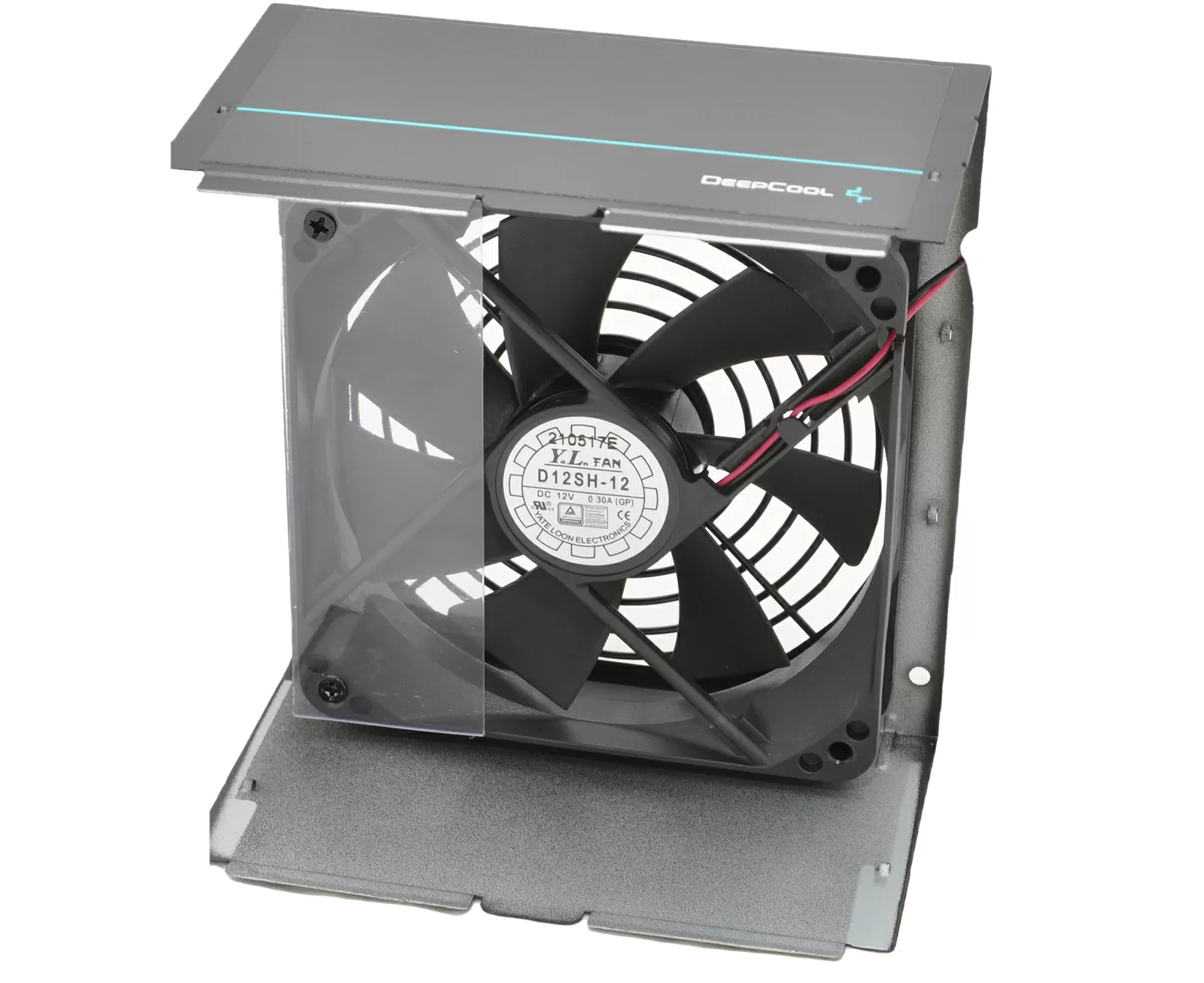 As in all modern power supplies on the Seasonic platform, a YATE LOON D12SH-12 fan with dimensions of 120x120x25 mm is installed here. A hydrodynamic bearing (bushing) is used as a rotor suspension. The fan is connected via a 2-pin connector, which in principle is also typical for modern power supplies.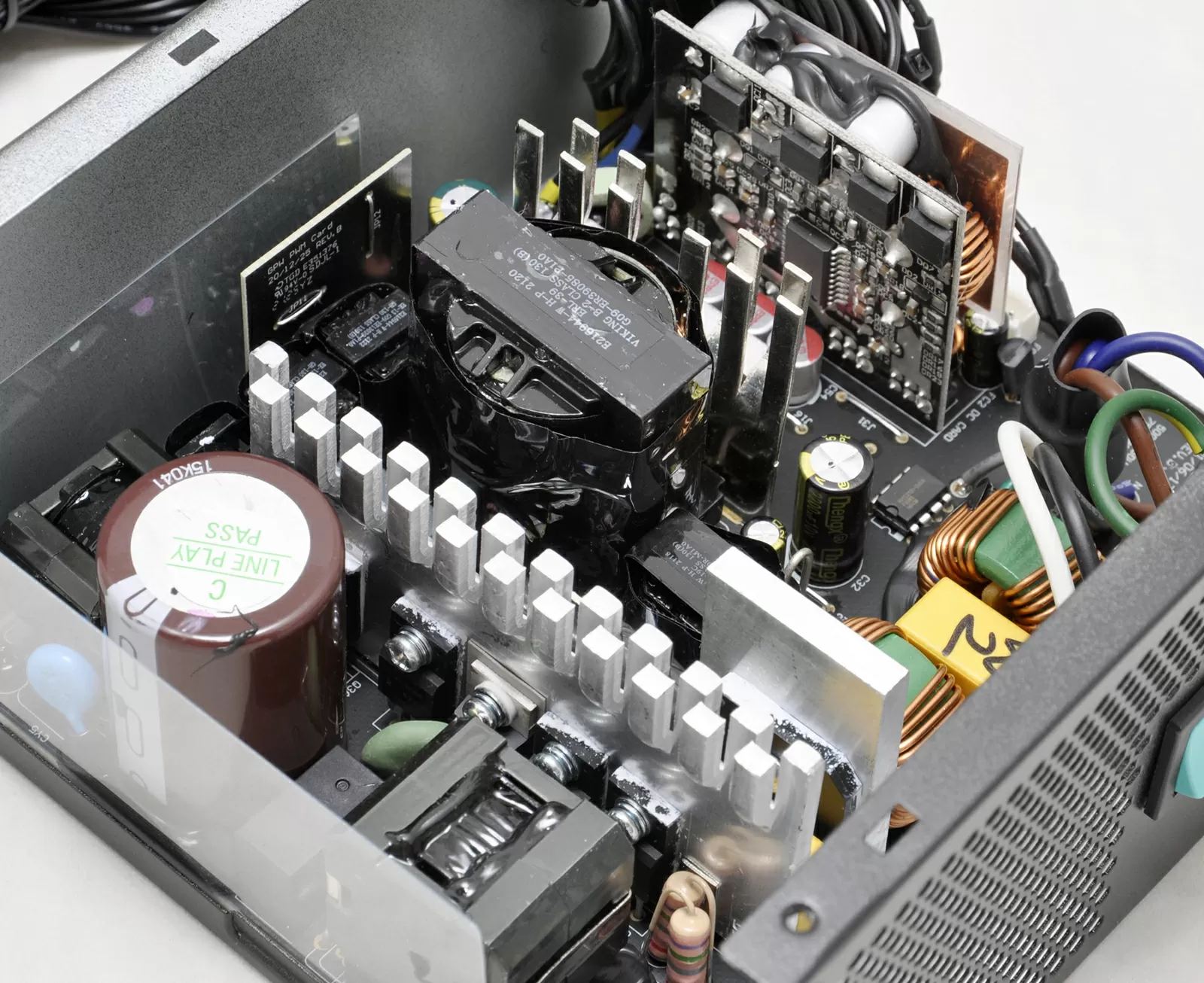 Two radiators of a simple plate design are installed in the primary circuit.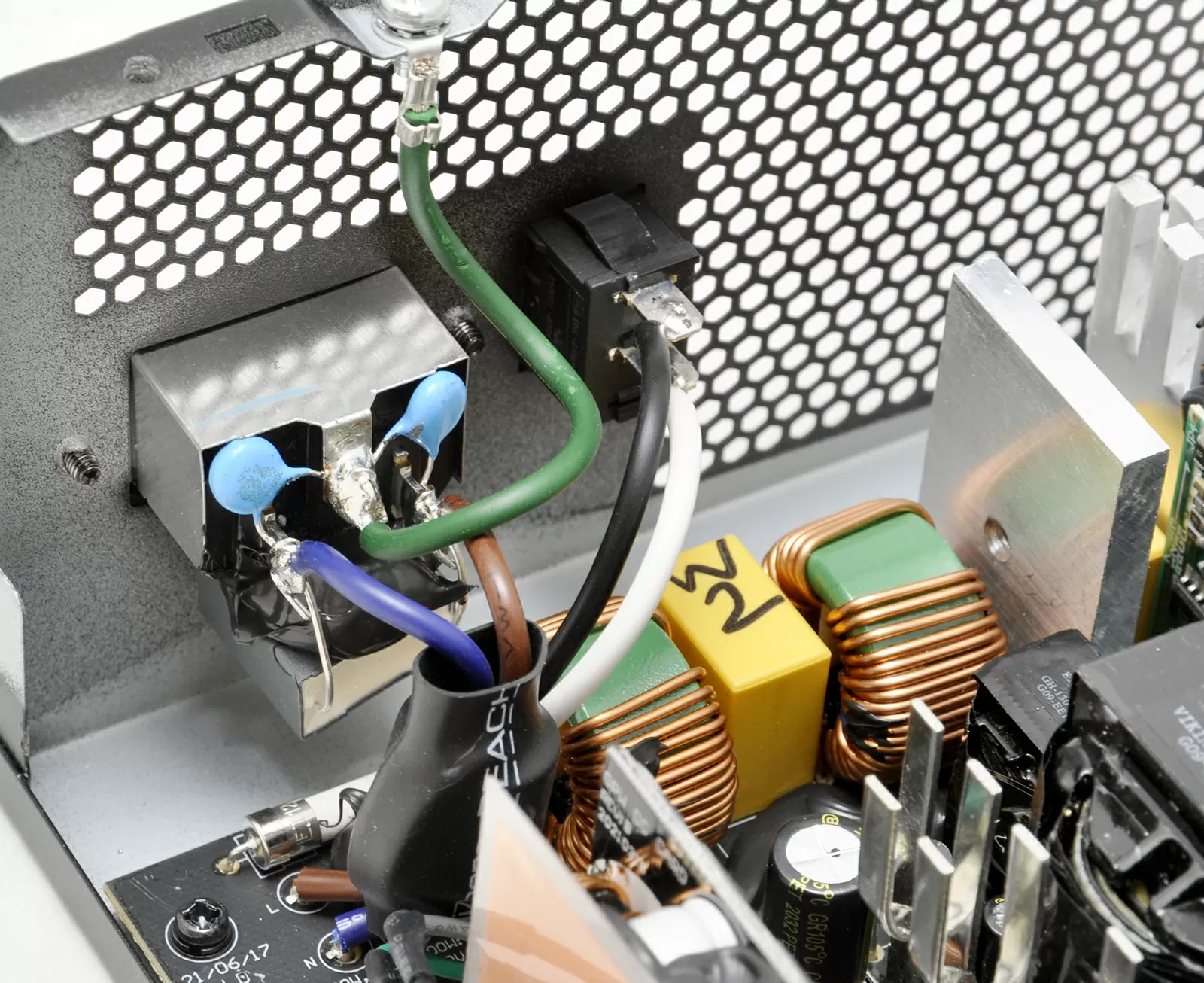 Three X-capacitors are used at the input, as well as four Y-capacitors, a varistor for protection against high voltage, two chokes, as well as a fuse.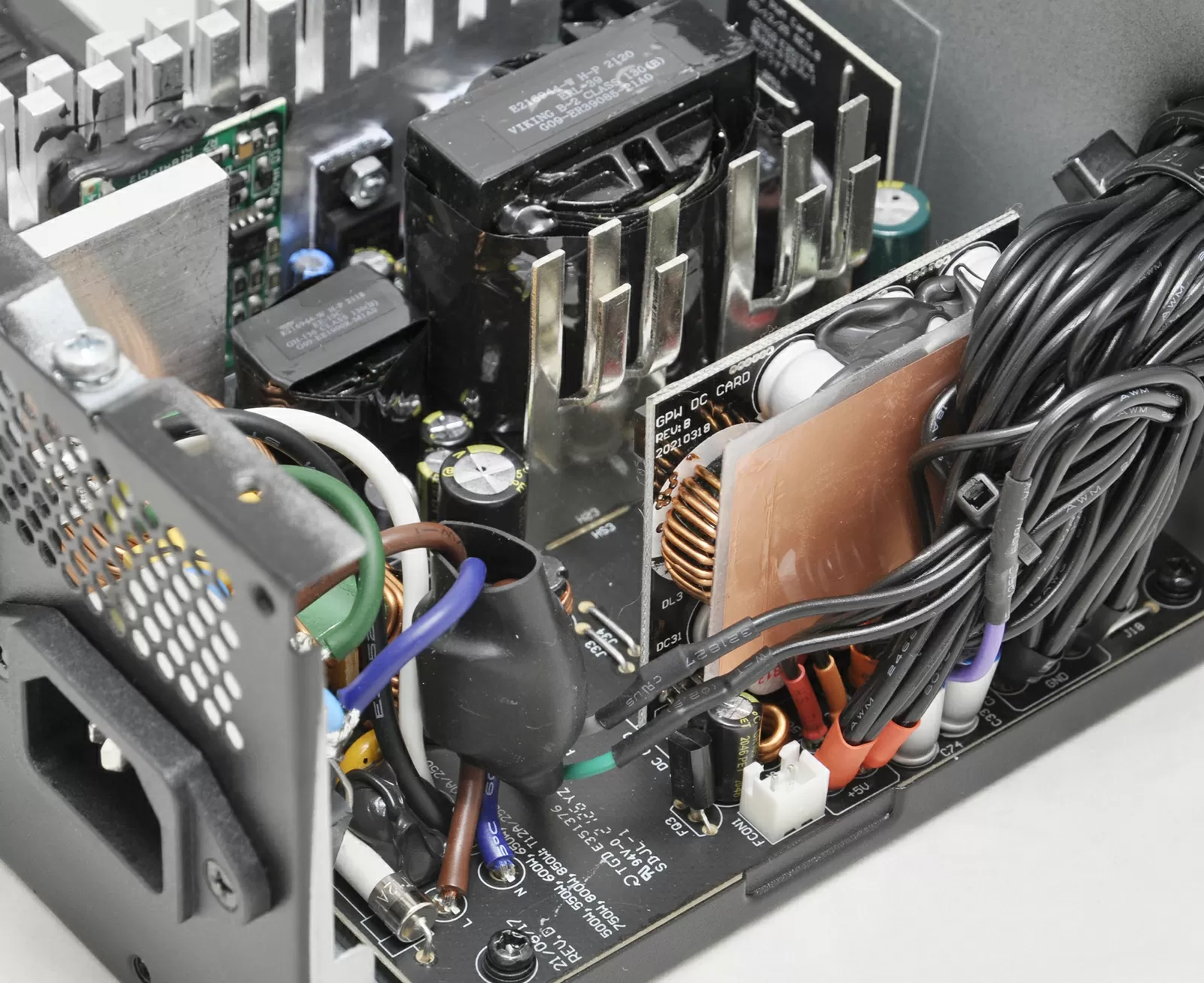 In addition to the four keys, heat is also diverted to the second radiator from the APFC board. The power factor compensation controller is located on the daughter board.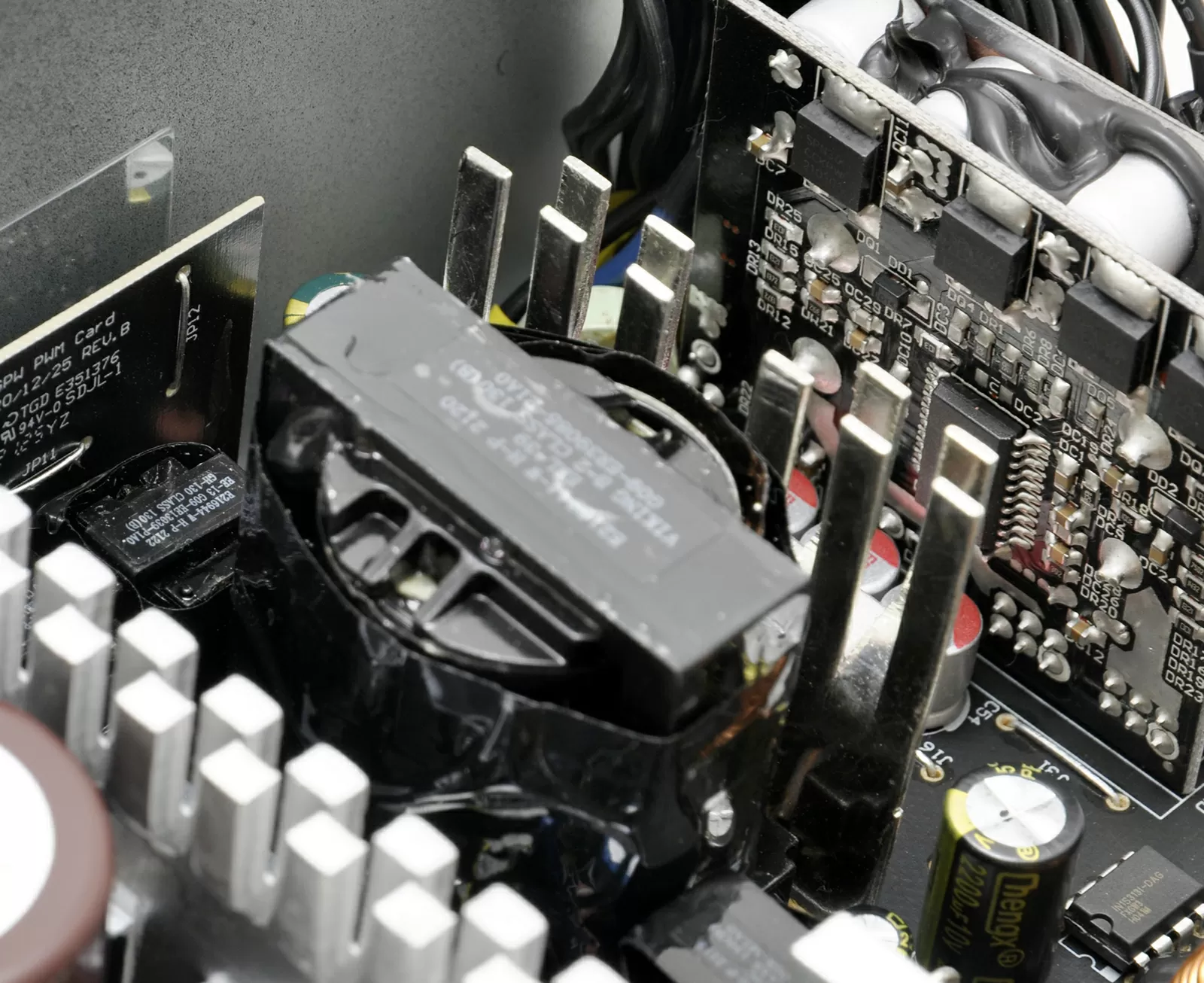 As in expensive solutions, a full-bridge circuit with a resonant LLC converter is used here. The INS313I-DAG controller is used for control.
Bus voltage supply +3.3V and +5V occurs through step-down DC-DC converters placed on a separate board and controlled by the ANPEC APW7159C controller.
Traditionally, when considering power supplies, we pay attention to the capacitors used, on which the durability of the power supply depends. In expensive models of the DQ series, DeepCool uses Japanese high-temperature Chemi-Con brown models, and here the same is installed in the primary circuit. Further on, in the power supply, we see a prefabricated hodgepodge of electrolytic tanks ChengX, Jamicon and solid-state presumably Sanyo.
Testing

When testing, the first thing we do is check the voltage output on the tires beyond the nominal value at various loads.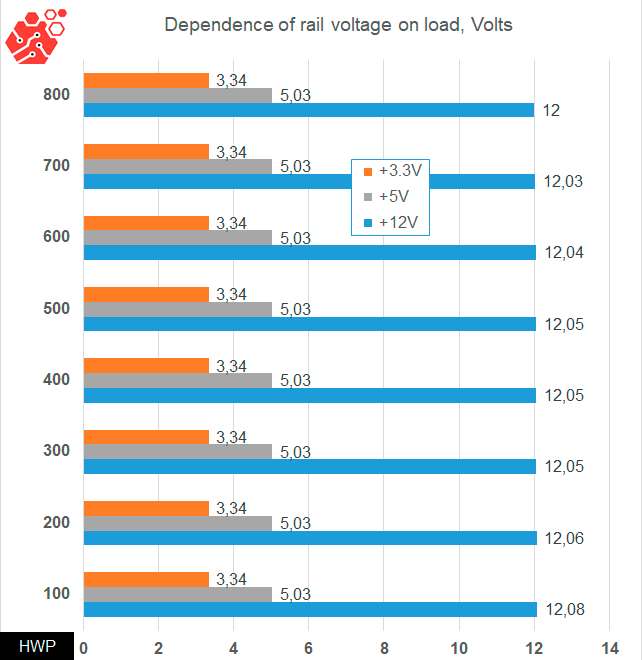 Deviations are within acceptable limits
The results can't be called anything but ideal. There is nothing to add or subtract.
Technical specifications
Dimensions, mm

150 х 140 х 86

Standard

ATX12V v2.4


Power factor corrections

Active PFC 0.99

Fan

120 x 120 x 25 mm
2000 RPM
Fluid Hydro Bearing
32.3 dB

Efficiency

80 Plus Gold

MTBF, hours

100 000

Warranty

5 years
Load specifications

+ 3.3V

+5V

+12V

-12V

+5Vsb

20 A

20 A

62.5 A

0.3 A

3 A

110 Wt

750 Wt

3.6 Wt

15 Wt

750 Wt
Conclusions
Answering the main question: is it possible to take DeepCool PM750D when it is so cheap, and everything around is so expensive, I want to say unequivocally: not just possible, but necessary. Yes, you don't get a top for this money, and the element base, of course, loses to the older series with disconnected cables. On the other hand, the design scheme with one main bus +12V is the same here, and the same high-quality voltage stabilization across all buses. From a practical point of view, of course, there are not enough cables and connectors for a 750-Watt model, there could be more, especially for a video card.
But if you want to save money, then it's better to choose this power supply. At least from the factory there are excellent characteristics and a good 5-year warranty. In the same price category, it will not be easy to find such voltage stabilization and efficiency corresponding to the 80 Plus Gold certificate.
Michael Degtjarev (aka LIKE OFF)
23/05.2022