How to distinguish 10-Gigabit network card Intel X520-DA2 from Chinese fakes
Network boards from Intel is the real long-livers among server components. Motherboards, processors, SSD and RAID controllers are changing, and network cards can be produced for 8 and 10 years. The 10-Gigabit Intel X520-DA2 Board on the 82599es chip considered by us is familiar to every integrator who deployed high-speed networks, and was announced in 2009, it is still a hit of sales, surpassing its competitors, which, by the way, in this segment Intel has enough. Usually, some server components are produced in a large batch, and then gradually sold from warehouses, but this does not apply to Intel X520-DA2, and in this article we will use an adapter released 4 months before coming to our hands. Agree, for the card, which was announced almost 10 years ago, it means a lot.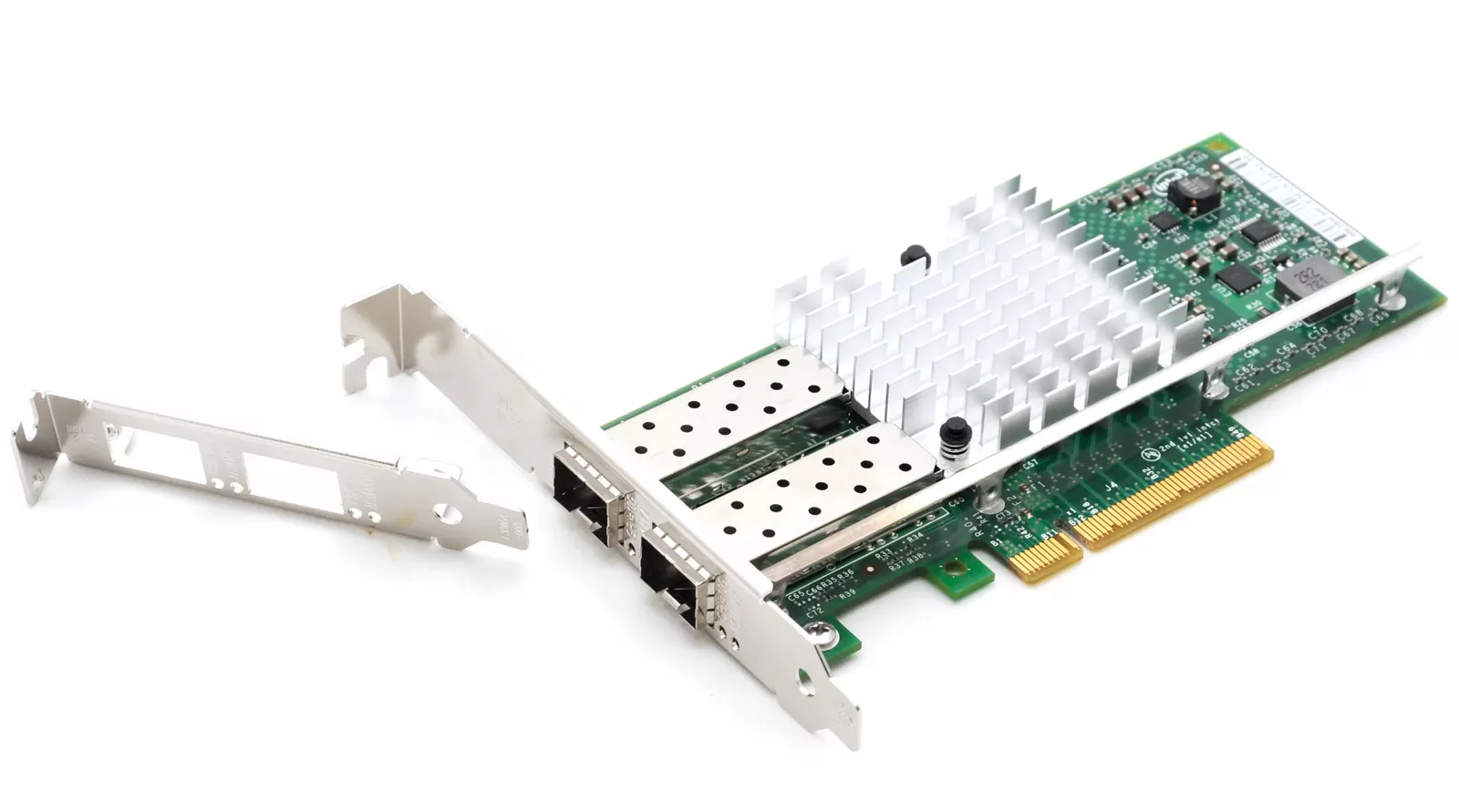 What is the reason for the popularity of this particular network adapter? Companies Chelsio and Mellanox, the main competitors of Intel, have long removed from their sites mention of the boards released in 2009, even Intel itself introduced two new series of 10-Gigabit adapters: X710 and XXV710, but X520 continues to be released?
The answer can be found in forums and Bug reports from Dell and HP. These are drivers. For network adapters of the X520/X540 series, Intel has released stable drivers for Windows and Linux that work with the kernel version 2.6.18 and above. These drivers are supported not just by all Linux distributions and all versions of Windows Server, but also by the very demanding hardware VMWare ESXi, which is widely used in virtualization. The list of supported VMware ESXi 6.5 U1 network cards Intel hypervisor stretched to 29 pages 2, and you can see that even very old models that are not found even on Amazon, in this list there. The main thing that you will find on the forums threads about X520 – is that the Board is absolutely no complaints, and all appeals to technical support, as a rule, relate to the actual failure of the device, and are allowed to replace the warranty.
Stability of Intel drivers and support from VMWare support high demand, and where demand, there wishing to cash in on wishing to save. Today on sale you can find fake Intel X520 boards, and as a rule, it is modifications with two SFP ports, that is, DA2. They are looks very similar to the original, but with due attention to distinguish a fake is easy.
Why is it important to be able to distinguish a fake from the original?
Server equipment is sold with a huge margin, and many integrators specifically install non-original fake components in their servers and storage to win the price. So, if, for example, some hard drives Dell, Netapp and IBM to distinguish from fake is simply impossible, and the customer will never understand that he was cheated, to the point that he will even have a service replacement of these modules, with Intel network cards the situation is different: they really differ, and the customer can simply not accept the expensive project, if he notices that he is trying to put a non-original. On the other hand, if the integrator itself provides service support for the installed equipment, then it would be better to know where the fake 10-Gigabit network cards come from. After all, the product is, frankly, specific, and in this case, the game is not worth the candle.
Where are the fake Intel network boards?
Intel supplies its partners with both network chips and controller boards. Some companies, such as Solarflare, make their own host controller designs, and for example IBM, HP or Dell can simply stick their stickers on and sell Intel boards under their own name. For 8 full years of sales, thousands of Intel X520 boards have been decommissioned, replaced with new ones and recycled. Where disposed of? In China, of course. How are they disposed of? Of course, no one was going to throw them out.
In China, a very developed industry "reboll" – components, and simply put, is taken some kind of Board, it is soldered chip and sold as a component. These chips buy equipment repair shops or mini-factories that produce their products on them. It was the "reboll" components in gaming motherboard with server chips Intel X79 produced by companies such as Huanan. Rebolls used in some very popular RAID adapters LSI, and "rebolls" used almost at all of the fake Intel network boards.
Rebolls profitable only what is in high demand, otherwise it is easier to sell used. Therefore, for example, old network cards Mellanox Connect-X or Chelsio, which do not have drivers for VMWare ESXi 6.5, are not valued in the secondary market and are sold cheaply as used, and Intel X520 is valued, and the used fee can be sold more expensive if you present it as new.
However, on sites alibaba.com and ebay.com where most of the fakes are sold, you can't just sell used board like new one – it is a violation of the service regulations, and the seller can simply be banned for life. And if you remove the processor from the Board and solder it to a similar card, then this will not be a violation. Just don't call it by Intel name, and most will not notice the trick, the price will be higher than for used original board, but much lower than the new original.
What is the difference between originals and fakes?
Neither the drivers nor the BIOS to distinguish an original from a fake will not work, but from the point of view of circuit design, fakes are all sad. First, FC-BGA chips don't like being fed and sealed back. Solder for FC-BGA-chips requires a special, otherwise the processor can easily peel off from the heat, and 10-Gigabit controllers consume somewhere 10-15 W and have passive cooling, that is, they are heated very much.
Of course, when you design a Board for sale through Ebay, you have slightly different requirements than when you do it for Hewlett Packard, so the fake boards have different wiring and other power stabilizers. The Chinese make it easier and cheaper, and whether it is done on new equipment or on the same used, we do not know.
Therefore, the main risk from the point of view of circuitry is that the fake X520-DA2 processor will overheat, hang and eventually begin to peel off from the Board. The performance of the other components is not so obvious, and it is likely that in greenhouse conditions, the host controller will not cause trouble for stability or sink speed. However, there is good news for manufacturers of fakes: Intel 82599 processor installed on the X520, supports two 10-Gigabit ports at speeds up to 20 GB/s, that is, it can be soldered from a single-port X520-DA1 and soldered to a dual-port board, getting one port for free.
As I said, making an exceptionally exact copy of Intel boards is unprofitable and illegal, so most sellers on Aliexpress, Alibaba and Ebay will definitely warn you that the network card is unoriginal if you ask them. However if the Board comes as part of the server, do not be lazy to open it to look at the differences listed below.
Differences of the original Intel X520-DA2 Board from fakes in order of simplicity
The first and the simplest – on the PCB, white paint should be displayed Intel logo. It never closes with a sticker on top, there is no "new" design without a logo. If it's not there, it's fake.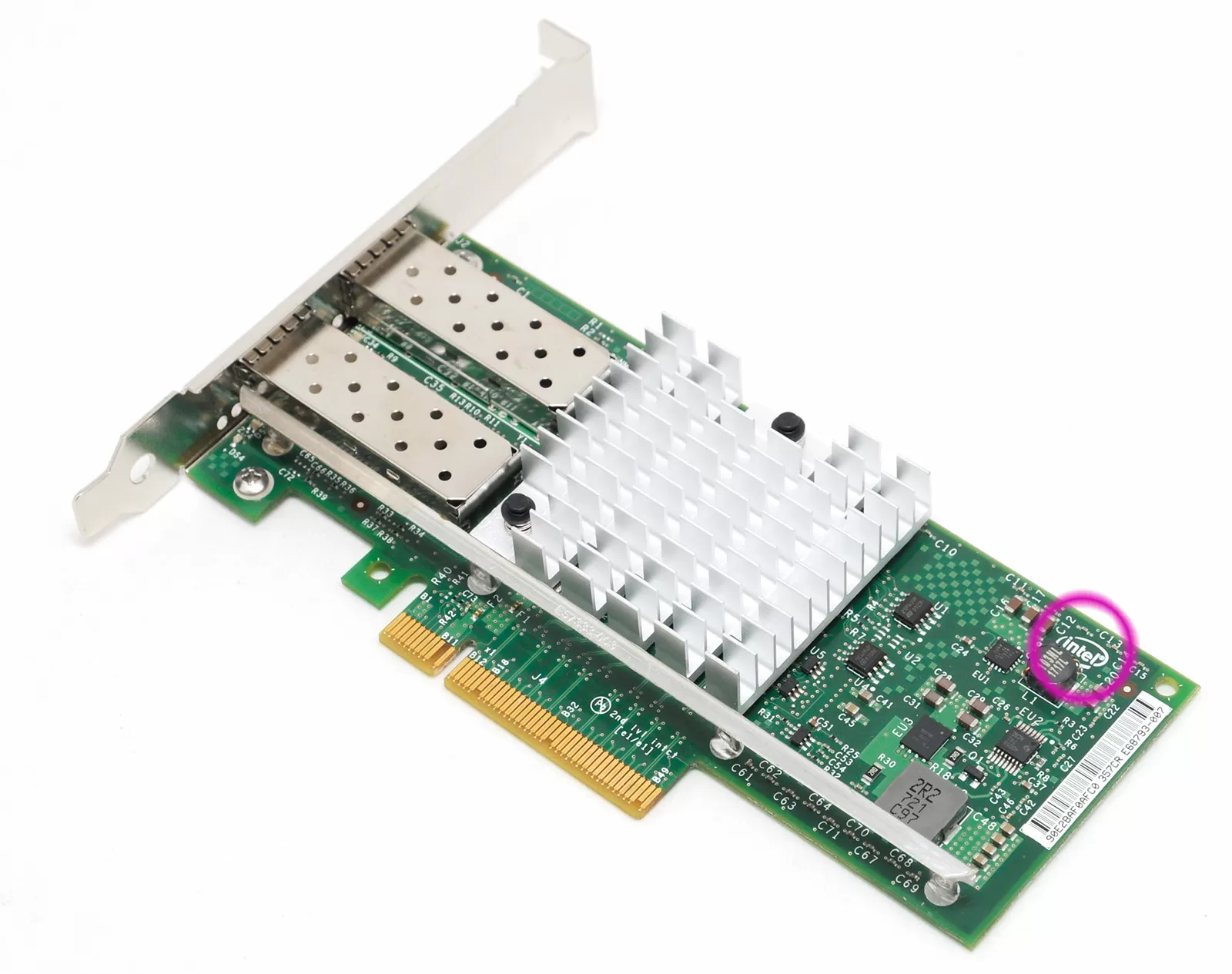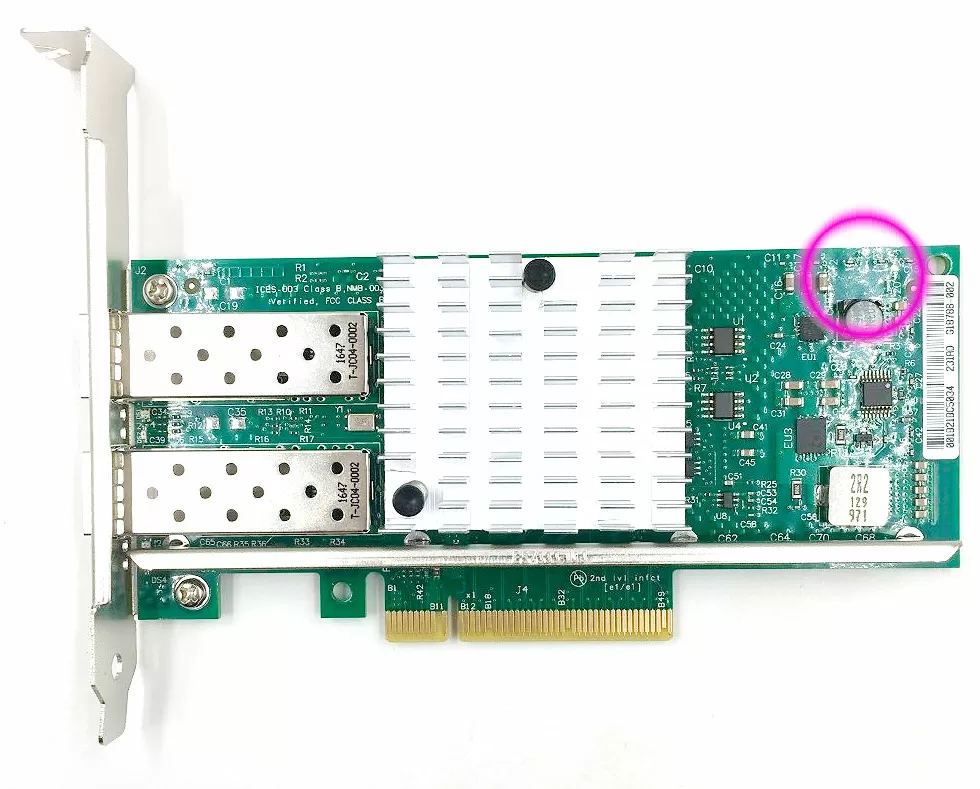 I have met people who could put a QR code on the Board with a white felt pen, so the Intel logo is a good help, but it can be drawn.
Holographic complex yottamark sticker on the back of the Board. Such stickers are very expensive, because they are designed to protect the product from counterfeiting, so even if they are forged, they look dull and unnatural.
Each holographic sticker has a serial number, which can be checked on the website http://verify.yottamark.com.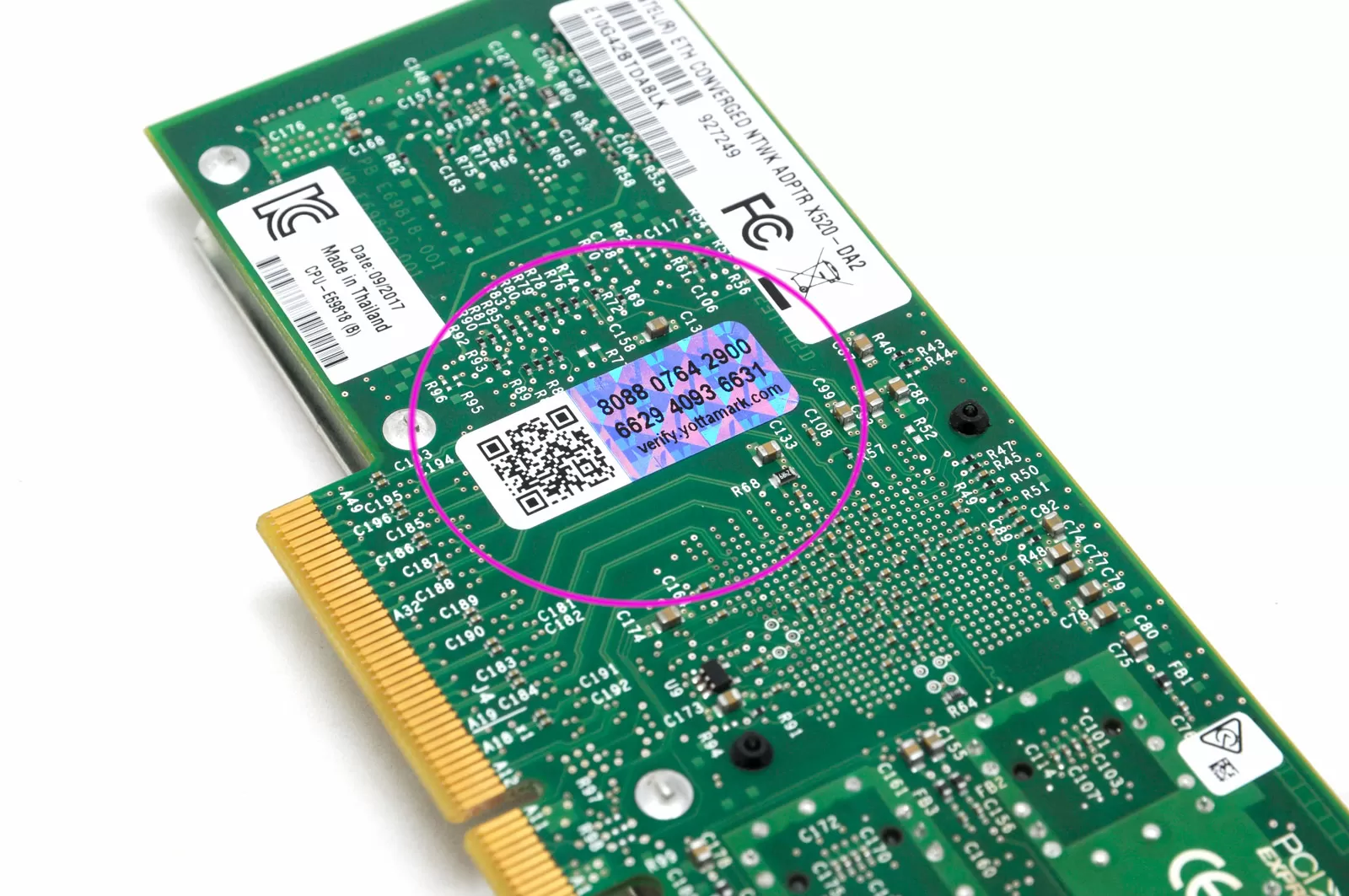 As a result of checking the specified code, the site will show us the card model, MAC address and date of production of the product.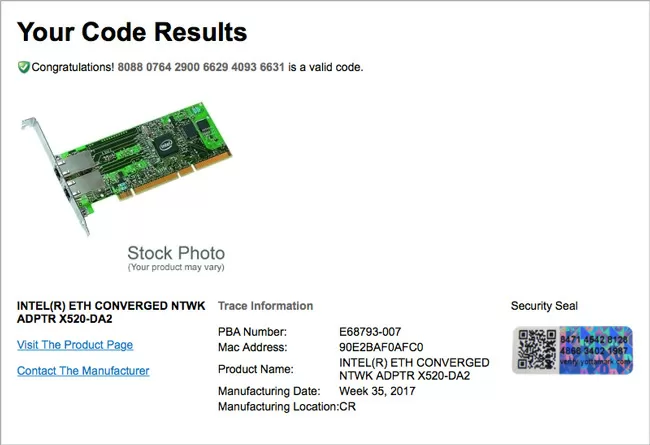 To buy a hologram, like two drops of water similar to the original, is almost impossible. The original hologram shines even after the device has worked for 3 years in the server.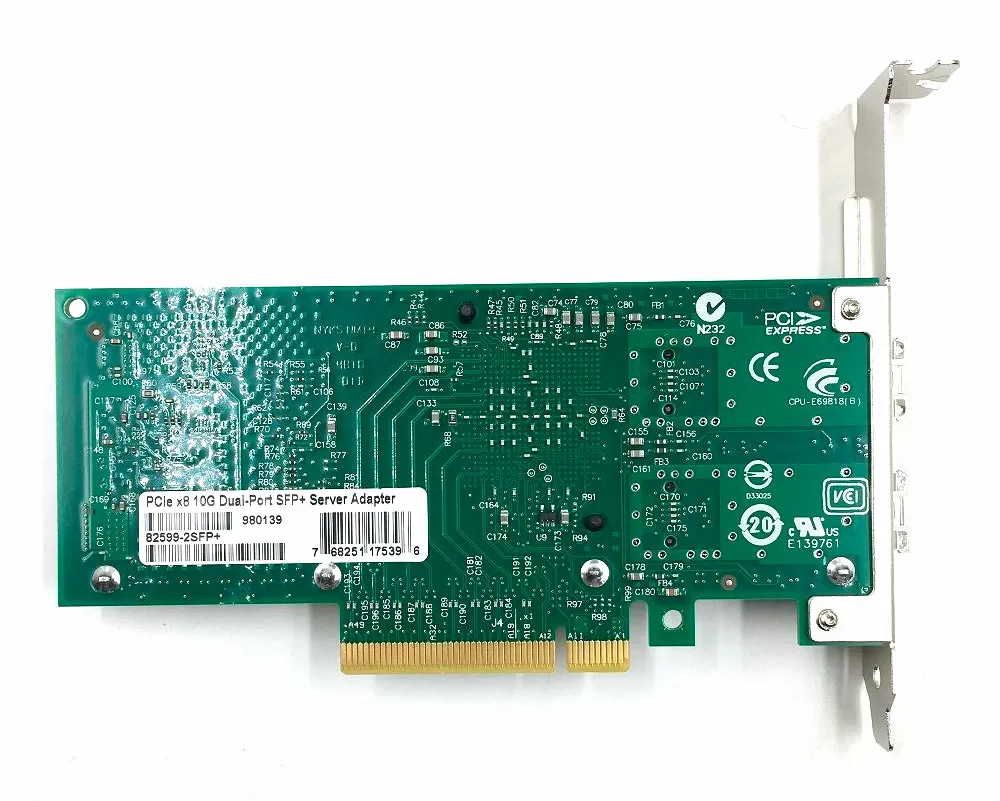 But a hologram can stick with the original charges of forgery, so if your NIC so there is no sticker, you either have neoriginal, or your adapter became a donor for a Chinese manufacturer.
On the original Intel X520 radiator is fixed with round "nails", which on the back side of the board have an expanding part, as in car clips. The carnation passes through this part and fixes the radiator. The fakes usually use the most simple attachment of the type "strut", mostly with the 8-pointed hat.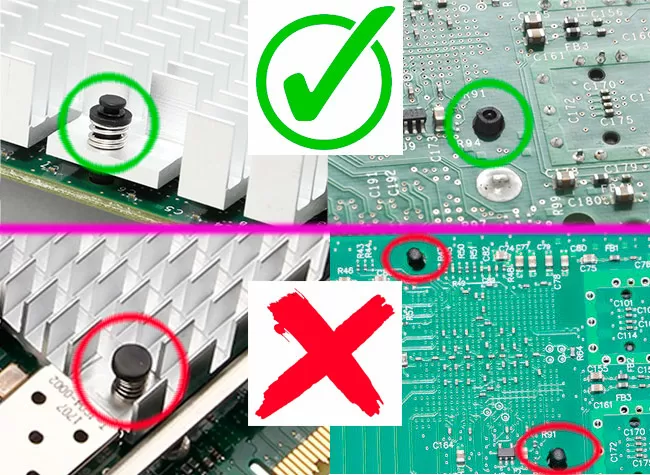 Therefore, on the original Board you will not see a hole in the PCB for mounting the radiator, and on the fake – as like on video cards 20 years ago. By the way, such cheap fastening of radiators, as on fakes, for a long time is not used anywhere because of the unreliability and a weak clip.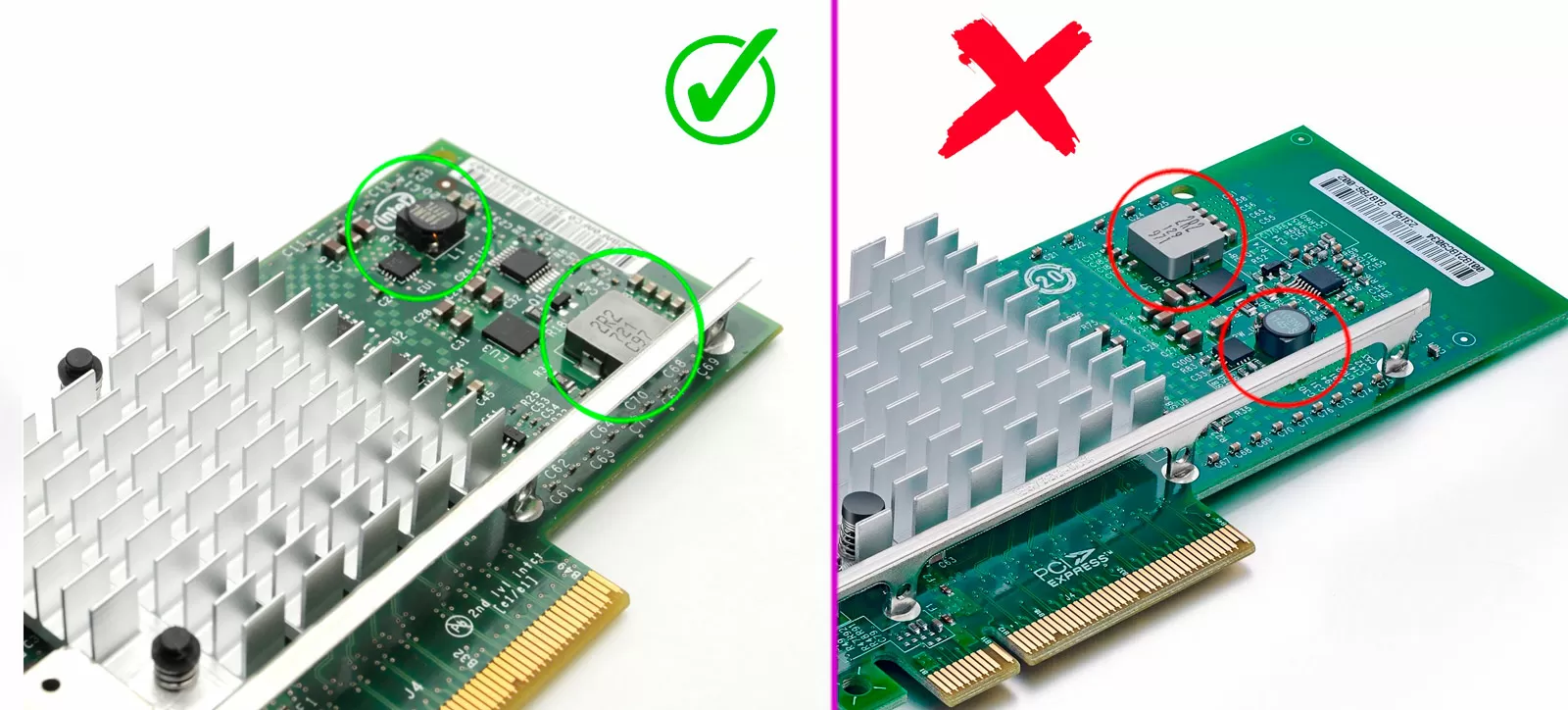 The power circuits on the original and counterfeit boards differ in both design and components used. As a rule, on the fake board put what is cheaper. By the way, during the production of Intel X520-DA2, the power circuit on the board changed twice. All modern network cards in this series must have a power design as shown in the photo above on the left.
But it happens when the appearance of the network card is suspicious. Let's look at what points should not pay special attention.
What should not be paid attention to?
To the appearance of server components, as a rule, the attitude is always disregard: those who buy them, most likely will not even take the device in hand and do not know how it looks, so even the original Intel X520-DA2 boards are allowed flaws that should not be paid attention to. It is inherent even to absolutely new cards which were not in the use.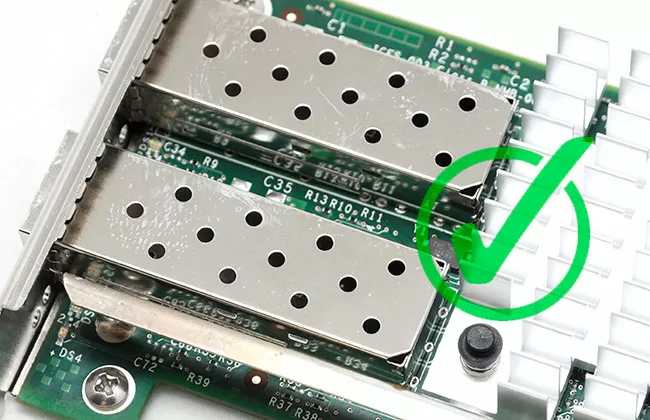 SFP slots on the top may have scuffs or shallow scratches.

По всей длине платы проходит металлическая скоба, предназначение которой мне не известно. Так вот, на этой скобе могут быть следы непонятного происхождения: она может быть темнее, как будто от ужасного перегрева, на ней могут быть какие-то капли клея или лака...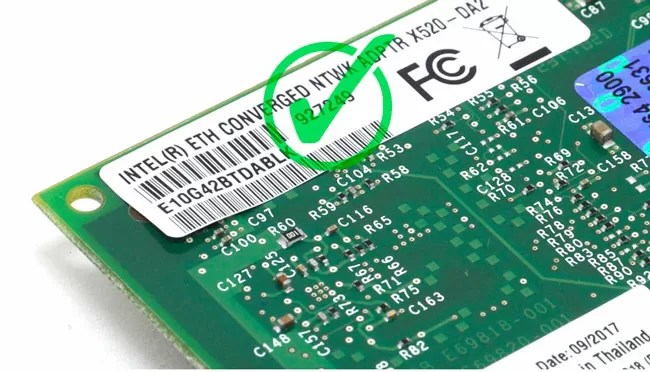 The sticker on the back with the inscription "Intel Converged NTWK ADPTR" may come off-this is the norm.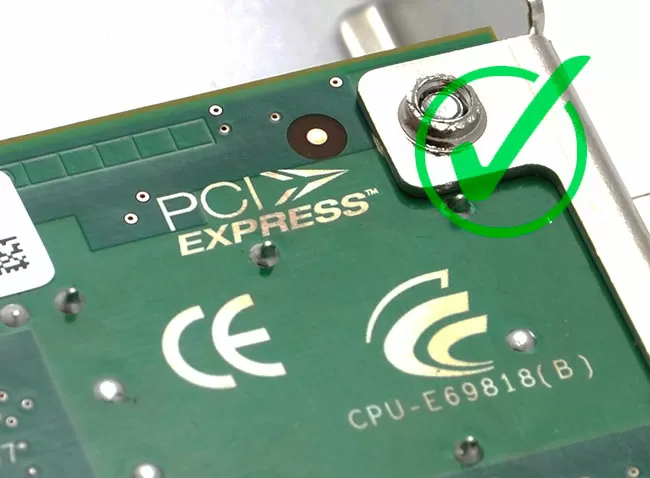 Inscriptions on textolite may look cloudy or dirty.
The Board that came to us for testing, which has all the appearance flaws that I wrote about above, was completely new, provided directly by Intel. I have no reason to believe that it was used-the contacts on the PCI Express and SFP are not worn, and this is the only thing that gives the novelty of the device. Therefore, you don't need to be overly vigilant when checking - even if the product looks like used, it may be completely new.
But is it bad to have non-original network card?
I many times faced the non-original equipment from China, including server. From my own experience I can say that most likely bought a fake will work, but most likely unstable. Periodic hangs," wandering glitches", which are diagnosed only by successive replacement of server components, are inherent in such equipment.
Own experience: for one of its servers, I purchased on Aliexpress new HBA from LSI. The card came in its original packaging, with all the booklets and drivers, was tested and installed in the car. But the car hung from time to time-without any regularity, once a month or once every two weeks, hung tightly. I contacted LSI technical support, provided them with the serial number of the controller, and I received a response that the serial number in the database is not, such a board was not released. It became clear that I was sold a fake, although the seller claimed that this is the original. I changed the HBA to the original Adaptec, and the hang-up problem is gone.
For myself, I concluded that if the price is in the first place, it is better to buy a used original than a new fake.
With regards to the 10-Gigabit Ethernet cards, it is important to understand whether the fee is to issue the claimed speed for the desired length of the cable, if using a Direct Attach connection? Will it periodically lose touch when using any medium, optics or copper? Will it work with those transceivers that you plan to use, and will not hang, taking the entire server to down?
Conslusions
The main risk when buying a non-original board is that the processor, which is on it, most likely has already served the required 3-4 years in the data center, was removed by Chinese craftsmen from the native board and soldered to a new one with a completely different power scheme.
Michael Degtjarev (aka LIKE OFF)
03/03.2018